Starting your home search by finding a mortgage lender is always the best and fastest route. But most people begin by reaching out to a realtor to help them find the right home. When you go this direction, your realtor will eventually refer you to their "preferred mortgage lender" to get your mortgage pre-approval.
This may stop you in your tracks. You might not know what a "preferred lender" is or even know you had to select a mortgage lender in the first place. And can't you just pick out your own?
In this blog, I'll cover why real estate agents often refer you to a preferred mortgage lender and how it benefits you as the home buyer. And if you're realtor has worked with us before, they'll likely be sending you to one of our team members soon!
Why did my realtor refer me to their "preferred lender?"
Buying a home involves having a strong team around you. When you're working with a well-established realtor, they will have several real estate professionals they favor working with. This includes their "preferred mortgage lender."
When you're serious about home buying and need to know what you can afford, they will refer you to a mortgage lender they prefer to work with. This means the realtor trusts and is confident you'll be in good hands with that particular mortgage company. They know the lender can get you qualified to buy a home or work with you to get you in a position to be qualified. In addition, the realtor will be familiar with the process of that mortgage lender and will be able to plan your home search around that.
Assuming your realtor refers you to a company like NewCastle Home Loans, they'll be sending you to a lender who is transparent about their fees, turnaround times, rates, and ability to close your loan. Everyone at NewCastle Home Loans is dedicated to making sure each of our clients has a smooth experience.
Does my real estate agent get paid for sending me to their a "preferred lender?"
Nope. Your realtor and lender have a professional relationship where they know they can rely on the other to help their mutual client as best as they possibly can. There is no extra fee or compensation associated with choosing their preferred lender.
In fact, a mortgage lender cannot reward a real estate agent for sending business to that mortgage lender - as explained by RESPA. As you can read in section 8, RESPA prohibits anyone from receiving compensation or any sort of payment in exchange for a referral on a federal mortgage loan.
For a home buyer, this means neither your realtor or your lender has anything to gain from referring you to the other - except that they're confident the person they're referring you to will leave you with a five-star experience.
The term "preferred lender" doesn't mean anything other than it's someone's preference. For example, my preferred food is a Chicago style hot dog - hold the pepper. Whereas my wife's is a spicy chicken sandwich. Clearly, one of us has the superior preference, but it's just based on past experience.
Do I have to use their "preferred lender?"
No, you are not required to use your realtor's preferred lender. Or your mortgage lender's preferred realtor, for that matter. This referral is made to you on the assumption you'll receive the best service based on their previous experiences.
However, it's not uncommon to have a friend or family member refer you to someone as well. In fact, we see this all the time. Regardless of how you decide, you should always make sure the lender is being completely transparent about the mortgage process. If you're having issues or aren't sure if the something is out of ordinary with your process, I'm always happy to provide a second opinion. Visit my page and reach out for anything you need. If something seems off with your current lender, it may be time to switch.
Does using a "preferred lender" cost me anything?
Nope! As I explained earlier, there are no additional costs associated with using a preferred lender. There are only standard fees associated with your mortgage itself.
"Wait. Fees? What fees?" Great question. Let me explain...
As you get pre-approved, you will notice some specific costs associated with your mortgage. Educating yourself early on the details of your mortgage is always smart. At NewCastle Home Loans, you can use our free mortgage calculator to not only review your mortgage rates but also any fees in detail. You can view these after you search your rates with our calculator and look at the fees section.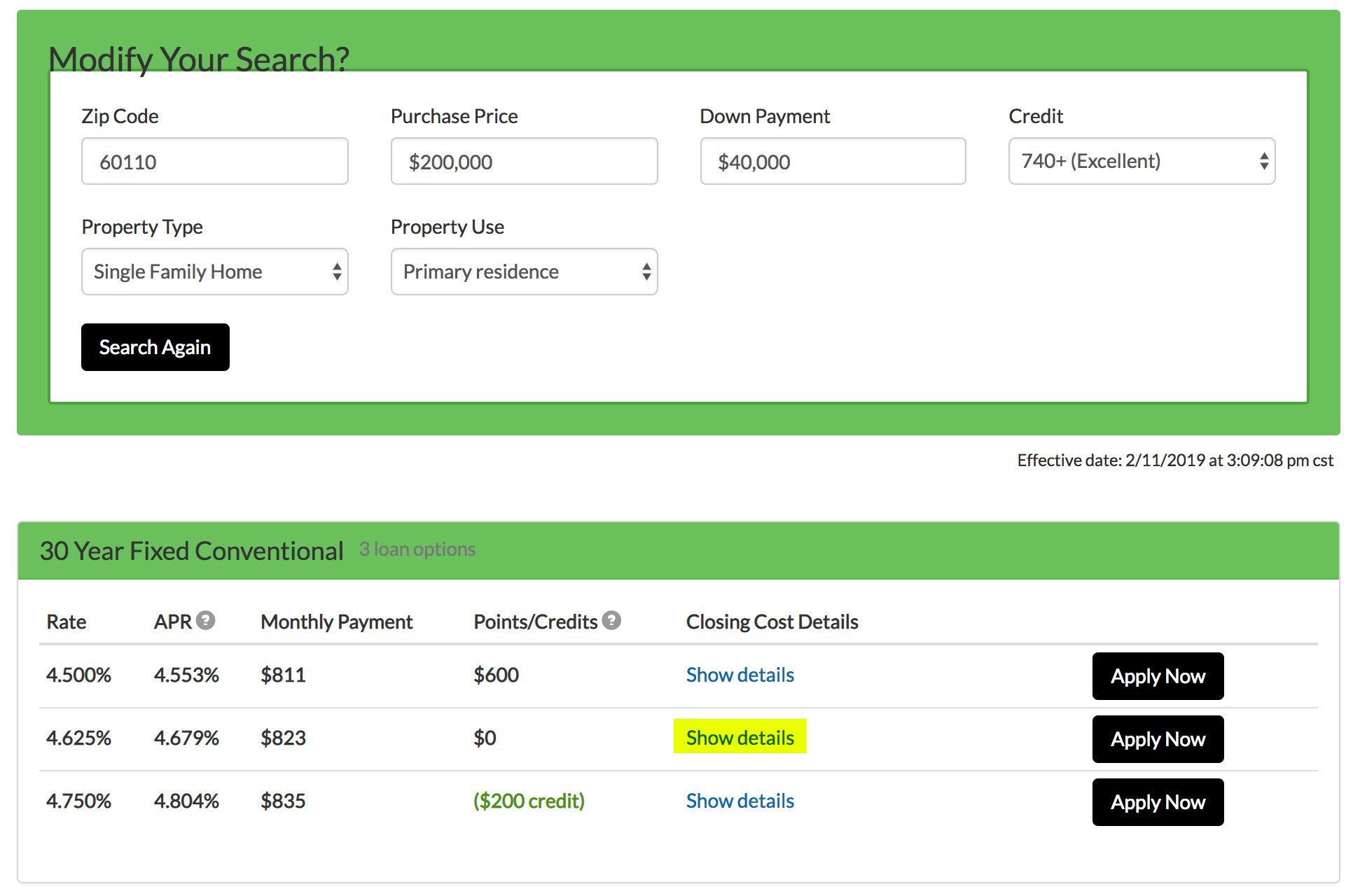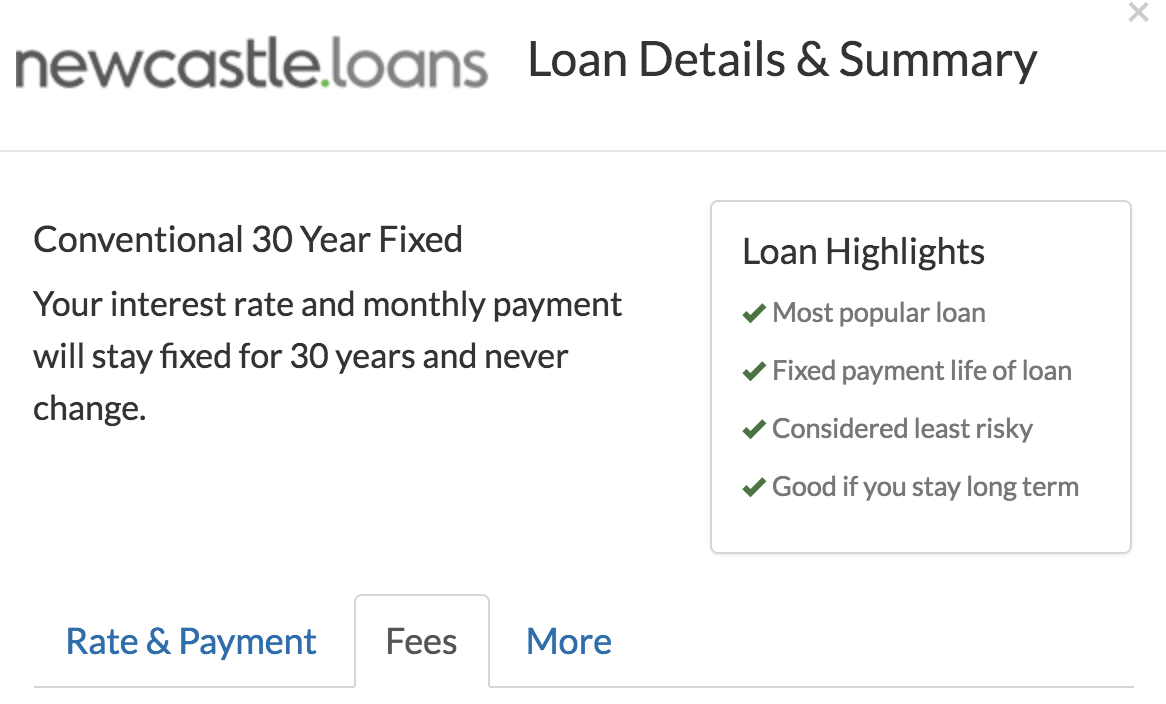 In this section, you'll be able to look over all the loan numbers in detail. If you had planned on shopping around, this is not something you can do with other lenders. Our system is tied to real-time rates and fees. With other mortgage companies, a loan officer is just running some rough numbers for you. Other than the interest rate, you won't be able to take a look at what's actually under the hood of your potential mortgage until much later.
5. My realtor referred me to NewCastle - what should I know about your company?
First, we're so glad your realtor sent you our way. We'll make this mortgage process much easier than you're anticipating.
You can read our full story here, but for a quick 101 about NewCastle Home Loans, we're a modern mortgage company that began lending more than 17 years ago. We exclusively deal with mortgages. This specialized service means we won't be distracted with trying to offer you anything other than the best mortgage experience possible.
We're more than team players. We want the mortgage process to be a drama free experience.
To make this possible, you apply and get approved all online. If you have a question or need help along the way, you can reach out to our loan officers at any time. Before you know it, you'll have your Approved Buyer Cert and be ready to buy your dream home.
With other mortgage lenders, you may hear of horror stories of a "mortgage falling through" at the last minute. But that doesn't happen with us. Before you place an offer on a home, you're fully underwritten. That means your personal and financial information is verified. We'll have addressed any problems before you've ever stepped foot into your potential dream home. This saves you from heartache, embarrassment, and perhaps most importantly - wasted time.
Still unsure about the mortgage process?
Hey, I get it. This can seem overwhelming. On your own time, you can review the mortgage process here. I promise it's much easier than you think. In addition, you can schedule a time to chat with me to find out if we'd be the right lender to help you with your home purchase.