You completed your application, signed the application and disclosures, and now you are taken to a link to view your dashboard. Applying for a mortgage doesn't have to be chaotic. There are a ton of steps that you will need to complete, and if you don't have a roadmap, you may start feeling a bit overwhelmed and lost. Wouldn't it be nice to have a place to log into that would have everything you need to know about your home loan?
NewCastle Home Loans has a personalized plan for each borrower so you know what will come next and what needs to be done to meet the closing date! You can have peace of mind knowing any time of the day or night you can log in and know your loan status, view real-time updates to your loan summary, upload documents to your To Do's List to clear those pesky conditions, house all your important loan documents, and most importantly see the deadline dates for your Closing Plan.
Let's break down each section of the Loan Dashboard.
Loan Dashboard
You will sign your disclosures, order and pay for your appraisal and communicate with your loan officer on your Loan Dashboard. Upon logging into your personalized Loan Dashboard you will never be lost, because there will be simple directions on what to do next. First, if you haven't already, you will need to sign your disclosures. By Signing your disclosures, you are not obligated to NewCastle Home Loans nor is a loan guaranteed. NewCastle Home Loans will still underwrite your loan before issuing a Final Approval before proceeding to Closing.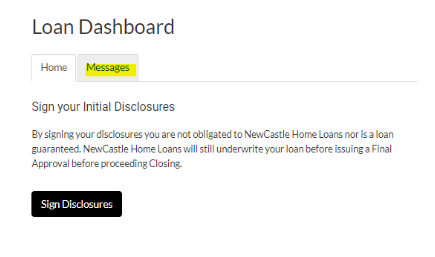 After you sign your application and disclosures, you will see the message "order your appraisal" Now that you've signed your initial disclosures, it's time to order the appraisal on your property. This is required by NewCastle Home Loans to take the next step and go into Underwriting.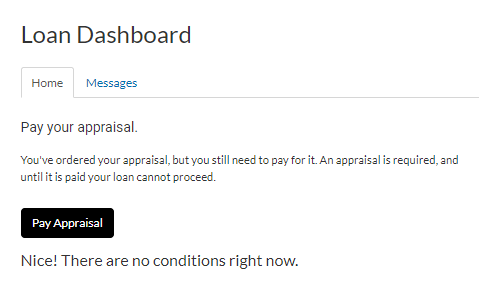 Once you have clicked the Order Appraisal button, you will be taken to a page where you can enter the agent's contact information. Please note you will need to select the Yes toggle button if you would like your agent to receive loan status updates and your mortgage commitment letter. This is our preferred method of communication, let us do the communication for you!
An appraisal is required to determine your property's value. Since an appraisal requires an on-site inspection and takes time to complete, you will need to order your appraisal now. Click here to learn more about the appraisal process. We use Newcastle Internal AMC, an internal lender department and state licensed AMC, to perform your appraisal.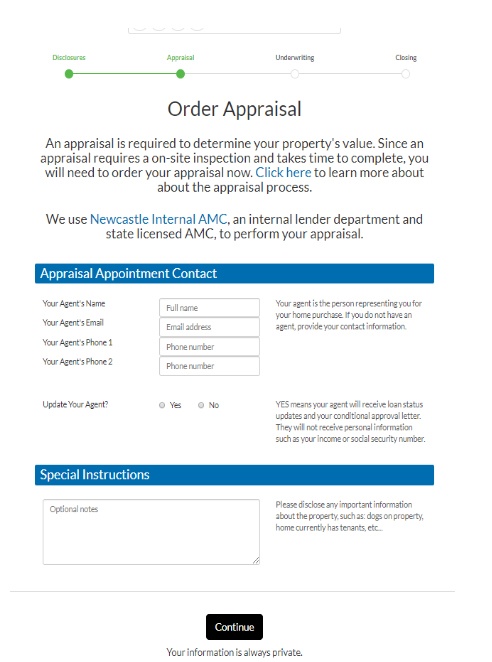 Next, you will make a payment for your appraisal. This will be the amount you will pay for your appraisal. If the appraisal is higher, NewCastle Home Loans will cover that cost. You will input your credit card information (we may not do this for you). You will need to check the box to confirm that you agree with our authorization statements.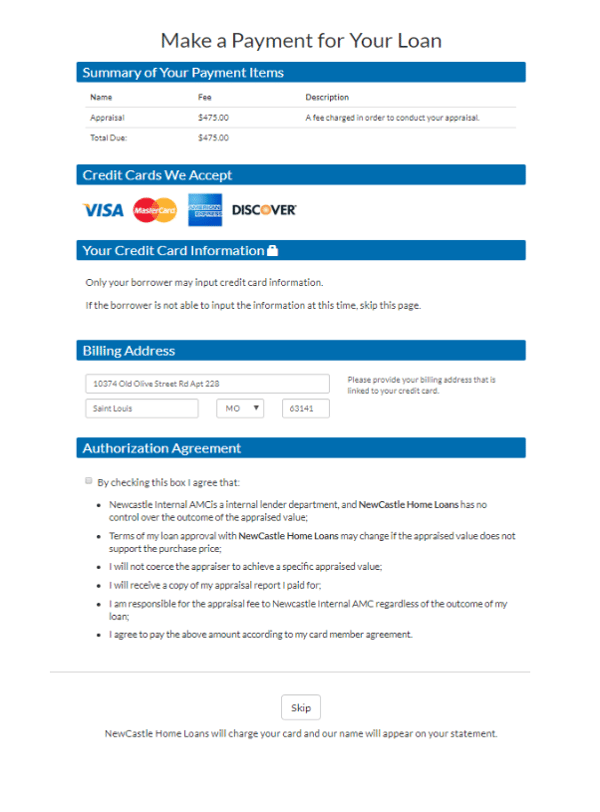 Messages
This is one of many ways you can communicate with your loan officer. By sending a message here, you will be essentially emailing your loan officer. All your messages will be housed in this section, all in one place. Please note, if the loan officer doesn't log into their lender dashboard to reply back to your message, the reply will not be housed in this area. However, you will receive an email. The messages will always be a part of your Loan Dashboard until you have closed your loan.
Your To Do's
Once you sign your disclosures, you will be moved right into underwriting where we will request certain documents to clear those pesky conditions, which will populate on your To Do List. Don't worry if you uploaded the wrong document, your underwriter will communicate that to you and request any documents needed in this section. Once all your documents have been uploaded and accepted, the underwriter will satisfy the condition and you will no longer see your To Do List!
You will be able to upload multiple documents at the same time. This is a safe and secure way of getting your loan documents to NewCastle. As soon as you upload your documents, they are ported directly to your loan file for your underwriter's review!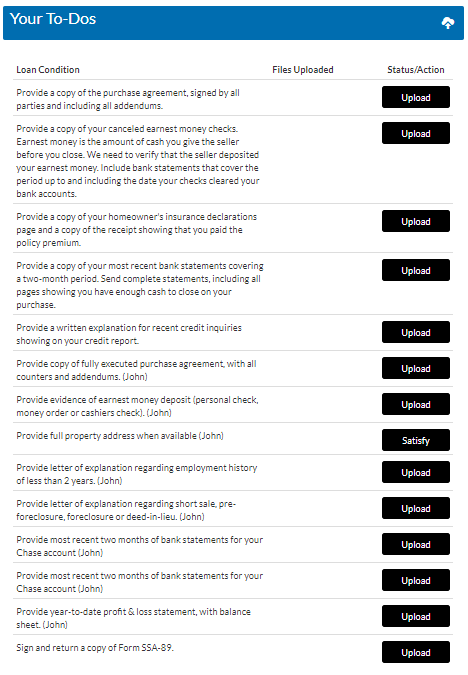 Loan Status
Your loan status is at the upper right-hand corner for your Loan Dashboard. If you ever want to know the status of your loan, you can find it here 24 hours a day 7 days a week. Below is a list of loan statuses and what they mean: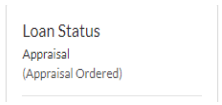 It is time to place the order for the appraisal.


You have canceled or withdrawn your loan application.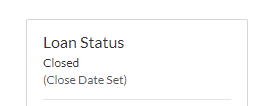 Your closing has been confirmed and entered into your closing plan.
Final Approval, Closing Disclosures signed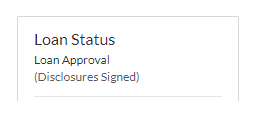 Your submitted application has been approved by our automated underwriting system and disclosures have been created and you need to sign.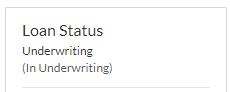 Your file is now in underwriting, all of the documentation that you have uploaded on your To Do List is now being verified by the underwriter who will then issue a loan decision.

Your application was denied.
This means your file has been manually put on hold until further notice. Usually, at this point, we are waiting on a certain documentation in order to move on in the process.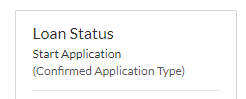 This is when an online account was created and your loan will be in this status with several substitutes until the mortgage application has been completed.
Loan Summary
The details of your loan will be summarized here on the right-hand side of your Loan Dashboard under the loan status. This is updated in real time so if you change your loan amount or rate it will be updated. The Rate/APR quoted is/are based on a loan amount and loan term including whether fixed or adjustable rate mortgage. Rate/APR are subject to change and are subject to borrower(s) qualification.
Anytime your APR changes by .125%, we will send a Change Of Circumstance (COC) detailing why there was a change to your loan. Along with the COC we will send you a new Loan Estimate that will list the new estimated cash to close, closing cost, and monthly payment breakdown.
Loan

#

:

Newcastle Home Loans loan number

Address:

Subject property address

Purpose:

Purchase or refinance

Loan Amount:

Amount of your loan could include mortgage insurance

Type:

Amortization type Fixed or ARM

Term:

The years of your loan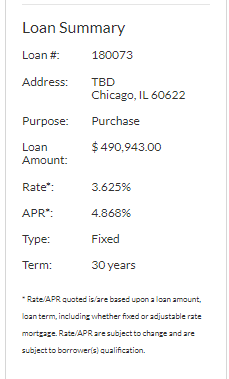 Closing Plan
Once you submit your mortgage application to NewCastle Home Loans, your Closing Plan dates will auto-populate at the bottom right-hand corner of your Loan Dashboard. We have personalized a closing plan to help keep you on track of your new home purchase.
You will always know where you are every step of the way and never feel lost. Need to know whats next? Refer to your personalized closing plan on your Loan Dashboard, which is located in the bottom right-hand corner.
Once you apply with NewCastle, your personalized Loan Dashboard will map out your closing plan that focuses on your closing date and if your date changes your plan changes. Your closing plan is filled with important dates for your loan.
Application: The date you submitted your mortgage application to NewCastle Home Loans.
Docs Due: Deadline for documentation. This is the very last date that you need to give us all the documentation that we requested. To avoid any delays in your closing, please have all your documentation uploaded to your To-Do's list by this date.
Mortgage Commitment: Your application is approved on this date. Your Mortgage Commitment letter will be sent over that will have terms and conditions included in the letter.
Closing Disclosures: Deadline for you to receive your initial closing disclosure. This is the date where your pre-closing disclosure will be sent to you.
Rate Lock Expiration: Date in which your lock expires. Please note the lock will need to be extended if it expires before your closing date.
Closing Date: Estimated closing date. This is the driving force of the closing date.
1st Payment Due: The due date for your first mortgage payment.
If there is an n/a instead of a date, that means there isn't a date in our loan system. These dates are synced directly to your loan in our origination system so if a date changes in our system so will your closing plan. If there is an n/a next to rate lock, that means your loan is not locked.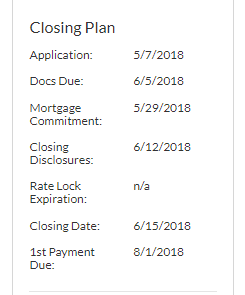 Loan Docs
Docs are short for documents - this is where all your super important documents are housed. Your initial disclosures that are signed by your loan officer and all borrowers will be located here for recordkeeping. You will also see all your pre-qualification and pre-approval letters as well as your mortgage commitment. Please note once your loan closes, this will not be available on your dashboard so please save your documents on your personal computer or print hard copies! Your loan documents are customized for you. There is certain documentation that is standard to all dashboards those are listed out below with definitions of each document type: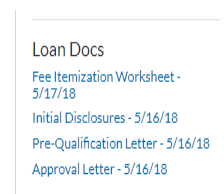 Initial Disclosures: After you review and sign your application and disclosures, they will be located in your Loan Docs.
Pre-qualification Letter: Your credit has been obtained and our automated underwriting system has been run and deemed application approved from the information that was entered by you for your employment, income, and source of down payment.
Pre-Approval Letter: This is our Approved Buyer Cert, which is better than a regular pre-approval letter. This means that your documentation and information has been verified and approved by your underwriter! All you need to do is find a property and we will do the rest!
Fee Itemization Worksheet: A breakdown of your fees associated with your loan. This will be included once you have a property. This is similar to your Loan Estimate, and it will include the details of your transaction.
Mortgage Commitment Letter: Our commitment to lend you the money. You have been conditionally approved for the mortgage. Once you upload all of the conditions and met all the terms in the letter, your file will be Clear to Close.
Your dashboard will be personalized to your particular situation. For example, if you need to work on your credit, we will share your credit report with you. We will upload special letters for you and make sure all of your important loan documents are a click away!
The closing plan was designed so you will have a place to go 24-7 and always know exactly what is going on with your loan file. We will never keep any secrets from you, and you will never have to wait for any answers. As soon as you sign up for your online account, your Loan Dashboard will be awaiting you!
Still have questions about the NewCastle Home Loans closing plan and Loan Dashboard? Email me.