It's called prospecting. Spend most of your time prospecting, and you'll close more loans too. Close more loans, and you'll make more money.
In this article, I'll show you how to avoid a common trap that diverts time and energy away from prospecting. Then I'll give you three loan origination tactics that will help you focus on income producing activities.
Free yourself from the "middleman" trap.
In the traditional mortgage loan process, the loan officer is the point of contact for borrowers. You take applications, gather documents, and guide borrowers through the process from start-to-close.
Look at the traditional workflow chart below. Notice how it places you, the loan officer between your borrower and everyone else on your team.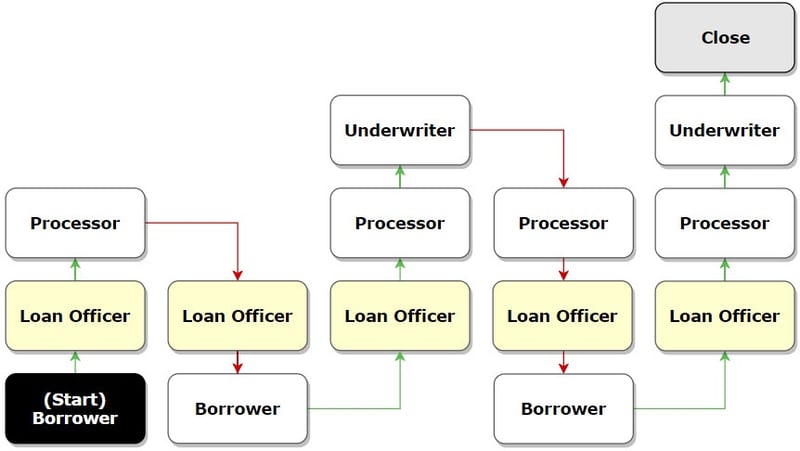 When you're the middleman, you touch loan files at every milestone. Every touch takes time. How many hours do you spend filtering information, like loan status and doc requests?
Service is the key that opens the door to referral business. It's no surprise that you want to spend time servicing the deals in your pipeline. Don't take the bait. If you fall into the middleman trap, you won't have time to prospect, and your pipeline will dry up.
Make three changes for a better future.
"If you always do what you always did, you'll always get what you always got" In other words, if you want to close more loans then change your tactics. Start by making these three changes:
Define your role
Use your sales support team
Modernize your workflow
Define your role as a loan officer. Start by identifying the tasks in your loan process. Decide who's accountable for completing each task. Then put it in writing so that everyone can see it.
Set expectations. Your job as the loan officer is to procure loans, onboard new borrowers and put out fires if issues come up during the loan process.
Use your sales support team. They're here to help. Trust that they'll deliver a great experience to your borrowers. Let go of the middleman role and knuckle down on your job as the loan officer.
Modernize your workflow. Use present-day technology to set up a loan process that takes you out of the middle. Upgrade the old milestone process to a fluid workflow so that your team can work on the files simultaneously.
See how we modernized our workflow.
We placed a Loan Dashboard in the middle. It filters information instead of the loan officer. The Dashboard connects borrowers with our entire team, assigns conditions and tasks, and exchanges data in real-time.
For example, doc requests from the underwriter go directly to the borrower. Conditions from the borrower go directly to the underwriter. The borrower sees loan details and status updates as they happen, without going through you.
You're free to prospect for new business. At the same time, you can consistently deliver 5-start service to your customers and referral partners! For us, the results are amazing. Our loan officers close more loans faster. 100% of our customer reviews are 5-star.
In conclusion, free yourself up from the middleman trap.
Prospecting is a sure way to add fresh loans to your pipeline. The more new loans you add, the more you close, and the more money you'll make. Although you want to spend more time prospecting, you can't. You're stuck servicing the loans that you already originated.
Free yourself from the middleman trap by changing your tactics. Start by defining your role as a loan officer. Next, use your sales support team. Then, modernize your workflow.
If you can't get free because your mortgage company still uses an old-fashioned loan process, then maybe it's time to change mortgage companies.
Schedule some time to talk with me about opportunities at NewCastle Home Loans. We will help you find the success you've always dreamed of.