How do self-employed workers get approved for mortgages? Just like everyone else. They organize their finances and documentation early.
As a self-employed borrower, you'll have a few extra hurdles to tackle. But that doesn't mean anything should hold you back.
Taking time to understand how your income, taxes, savings, and credit affect your eligibility - and how to properly document all this - is a big part of getting approved. And when you work with a mortgage lender who has self-employed borrower experience, they can help you every step towards homeownership.
In this blog, we'll explain how self-employed workers get mortgage approvals. We'll cover both the basics and some number crunching, which includes:
What documentation you need to qualify.

Calculating your monthly income vs taxable income.

Establishing your DTI.
The amount of money you need for a down payment (and extra cash in the bank).
How your credit affects your mortgage.
How to apply for a mortgage pre-approval.


First things first, you need to have your documents in order.

Although the process is the same for everyone, if you're self-employed, you have to show additional paperwork when you apply for a mortgage. Too many self-employed buyers don't realize this early enough. Instead, they fall in love with a home, struggle to document their qualifications for a mortgage approval, and end up losing the home.
As a company that approves or denies home loan applications, trust us that you want to have all this organized as soon as possible. Most of this documentation revolves around establishing your income.
For a self-employed worker or small business owner, proof of income is generally the biggest hurdle you'll face. Why? Self-employment income and small business profits can come in big swings and get tricky with taxes. Because of this, requirements by mortgage lenders can be tougher on those applicants.
As a self-employed worker, here is a list of documents you'll be expected to show to validate your income:
Two years of personal income tax returns (1099).

All assets - such as retirement funds, brokerage accounts, and savings accounts.

Any liabilities - such as alimony and child support.
If you're a small business owner, expect to provide the following documents:
Two years of personal income tax returns (1099).

All assets - such as retirement funds, brokerage accounts, and savings accounts.

Any liabilities - such as alimony and child support.

Two years of profit and loss statements from your company.

A letter or certificate of good standing for your business from an accountant or state filing agency. This letter proves your company is still in business, has paid taxes, filed required documents, and complied with relative regulations.

If your business is a corporation or partnership, two years of income tax returns.
If you have any questions about how to get this documentation in order, make sure to reach out to one of our loan officers. Everyone's situation is unique. Getting a handle on things now is important.
Know what you qualify for - monthly income vs. taxable income.

Now that you have your documents in order, you need to understand how big of a loan you can qualify for as a self-employed borrower. To do that, we need to establish your "monthly income" and "taxable income." These are not to be confused. Your taxable income is what lenders use to determine how much you qualify for. However, to establish your taxable income, we first need to figure out your monthly income.
To calculate your monthly income, we average your last two years of annual income. For example, if you earned $90,000 in 2018 and $75,000 in 2017, your lender will determine your income to be $80,000 or $6,875 per month ($90,000 + $75,000, divided by 24 months).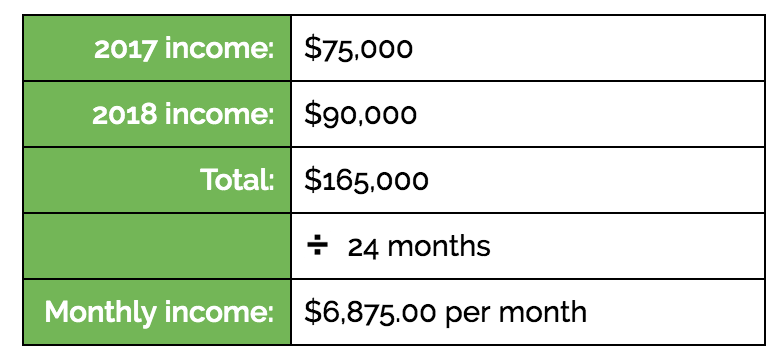 If your most recent year's total income happens to be less than the prior year, then only the most recent year's income is used. Two years is necessary for a lender to feel comfortable taking a risk on the home loan.
However, your monthly income is not what's used to determine how much you can borrow. That's very important to remember. To determine how much you can borrow, we now need to figure out your taxable income.
Your taxable income is calculated by taking your net income/revenue (monthly income) and subtracting the expenses. Take a look at the following table as an example:

Although this is a simplified example, all the expenses listed above count towards business write-offs, which is great for reducing your taxes. However, they significantly reduce your taxable income when you apply for home financing. The more expenses you have, the lower your qualifying income will be.
Once we have your taxable income, our underwriters will review any additional deductions and ones that can be added back in. Any deductions added back in, such as depreciation, are not considered expenses unless they come out of your bank account.
They may also review your tax returns and take out any "windfall" income. Windfall income is when you receive an unusually large paycheck from a job or contract (often a bonus). An underwriter doesn't count this towards your monthly income, because this wouldn't be considered an ongoing occurrence.
Once again, this is a basic overview of how your income is calculated by a mortgage lender. If you own multiple businesses or have a co-borrower who is also self-employed, calculating your qualifying income can get trickier. You can always reach out to our loan officers with questions.
How to calculate your DTI (debt-to-income) ratio.

Once your income is established, we have some more numbers to crunch.
Another important factor in how big of a loan you can qualify for is your DTI (debt-to-income) ratio. DTI is the sum of all your monthly debts divided by your gross monthly income. Your DTI tells lenders how much of your income is needed to pay your current monthly debts and how much is available for a mortgage payment. Your DTI should be at 43% or lower.
We use your gross monthly income to calculate DTI, although we already know that's not exactly what you bring in after expenses. Here is a simple example of a DTI calculation:

All debts included to calculate your DTI are what would appear on your credit report.
To get the DTI percentage, we divide your total monthly debt by your gross monthly income (before income taxes). For this scenario, we'll assume you make $6,875 per month.
$2,370 ➗ $6,875 = 34.5%
However, if you're a small business owner, DTI gets more complicated, because you may have business-related debt. In many instances, mortgage lenders will include these business-related debts into your total DTI. As a result, this could cause your DTI to go higher than the allowable limits. If you think this may be the case for you, bring it up to our loan officers early so we can work on finding a solution.
Money in the bank - down payment and savings.

Since a mortgage for a self-employed borrower is considered riskier, you'll want to help yourself any way you can.
One way to do this is with a large down payment on your mortgage. This will lower your LTV (loan-to-value) - the ratio of your mortgage and your property's appraised value. LTV measures risk. The more you invest in the transaction, the less risk the lender is taking. In most cases, you will need to have an LTV lower than 80%. We recommend putting down at least 10% of the home's purchase price, but 20% is ideal.
For example, if you want to buy a $450,000 home, we recommend you make a down payment of $90,000 (20%) or a minimum of $45,000 (10%). Also, the more money you put down, the lower your interest rate.
In addition to your down payment, having extra cash in the bank will significantly reduce your risk in the eyes of the lender. Large cash reserves will prove you have assets to cover can periods where you could potentially bring in less income.
Any cash you plan on using for the down payment and closing costs needs to be in your bank account for at least 60 days to not raise any flags. This proves you've saved up for your home and are responsible with your money.
Not to forget, your credit score is very important.

Credit is another huge factor in determining your mortgage approval and interest rate. Simply put - the better your credit score, the better interest rate you will receive. In most instances, you will be required to have a credit score of 620 or higher. Your credit is automatically verified when you apply for a mortgage.
Remember to avoid making any large purchases or opening/closing any new credit accounts when you're applying for your mortgage. This would alter your credit score and potentially increase your rate.
If you're the owner of a small business, keep your business and personal expenses separate. When you mix the two, your credit will be directly affected. Since deductions and write-offs can change your taxable income and DTI, a great credit score can go a long way.
Finally - how to apply for a mortgage pre-approval.

This is when all the early organization of your finances pays off. When you think you're ready, we recommend you get pre-approved as soon as possible.
When you get pre-approved, you're verifying exactly how big of a loan you can be approved for with specific rates and fees based on your financial information and down payment. You'll even be able to see how much your mortgage payment will be from month to month.
But getting pre-approved early isn't just a valuable way to know what you can afford. Our mortgage pre-approval is the smart way to show home sellers and real estate agents you're willing and able to buy.
Get started on your mortgage pre-approval now!
Being a self-employed borrower doesn't mean it's harder to get a mortgage approval.

Don't let the number crunching turn you away - mortgages are regulated for a reason. Everything you just read is standard procedure. As a self-employed borrower, you're already doing the right thing by researching and preparing early.
When you think you're ready to take the first step, you can apply for a pre-approval with us online. The application is easy and takes about 15 minutes. If you'd like to talk with one of our home loan experts first, you can use the chat in the bottom right-hand corner of your screen, email us, or call 855-610-1112.