For eligible veterans and real estate brokers who represent them, understanding how to write an accurate and compelling purchase contract using a VA Loan for their home purchase is critical.
The sale and purchase of real estate is a team effort. Setting proper expectations between sellers and buyers, real estate brokers, attorneys, lenders, and settlement agents is important in order to achieve an outstanding experience with the transaction for all parties.
Since real estate contracts differ from one local geography and state to another, I am just going to provide an example and comments for a property purchase in Illinois using the multi-board 6.1 real estate contract as a reference.
While every real estate transaction can differ from one to another (because of any buyers financial complexity), the first objective to set the proper timeline expectations such as the closing date and mortgage contingency date. See below for a for a snippet from the contract: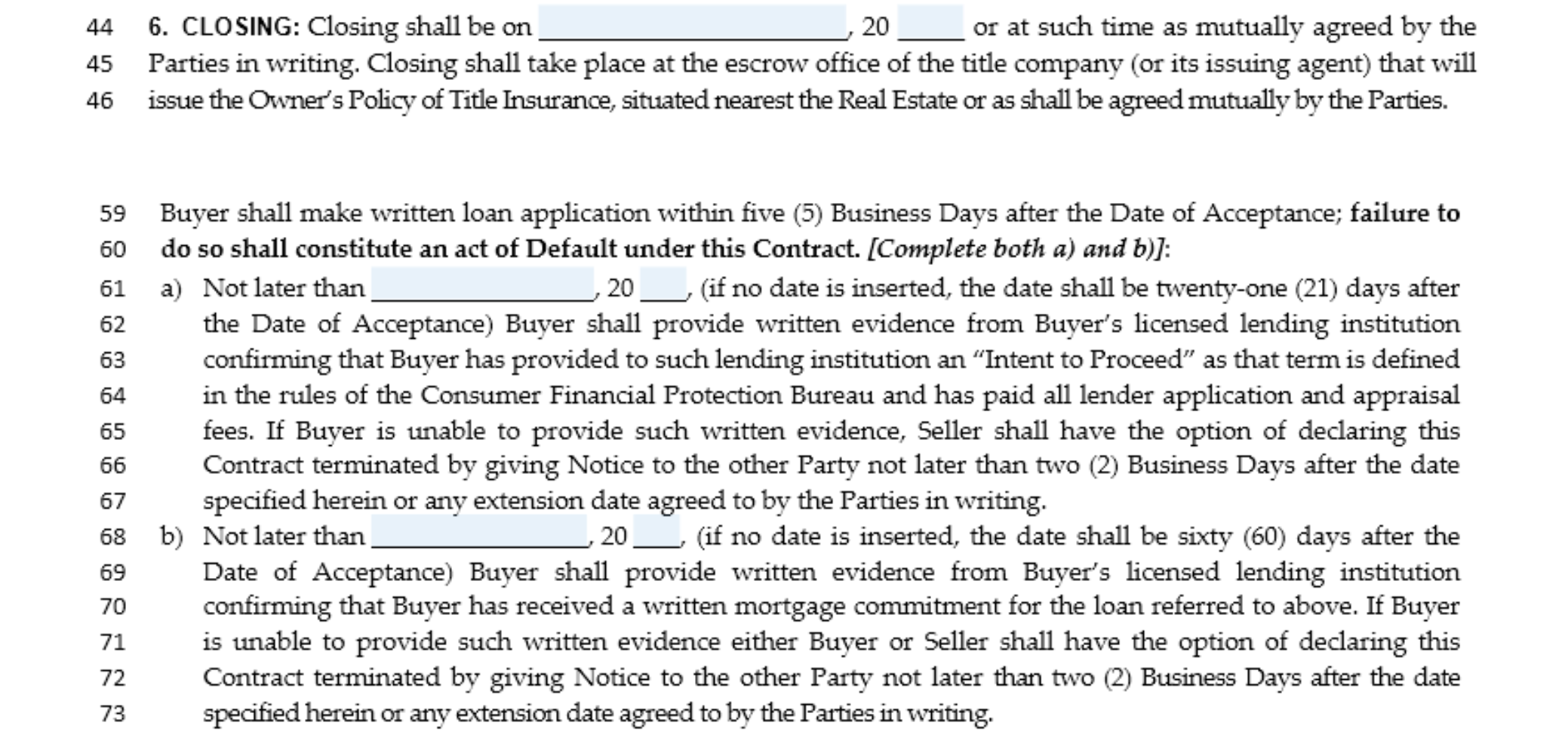 As a buyer, time is of the essence. You should start your loan application within five business days with your chosen lender. This task occurs in parallel with your attorney inspection review period, once your purchase contract is accepted by the seller. Next, a reasonable time frame of 30 days will be sufficient for most lenders to perform their duties, execute their process to provide an "unconditional" loan commitment (also known as a "full loan" approval or "clear to close").
If there are any seller concessions (seller credit money toward closing costs and prepaids to be paid by buyer), this should be documented as shown below:
Please note the maximum of seller credit money cannot exceed 4% of the contract purchase price. For example, if the contract purchase price is $250,000, then the maximum the seller credit can be up to $10,000. This important fact should be considered when submitting and negotiating a purchase offer. I recommend you and your real estate broker consult with an experienced mortgage lender to confirm the specifics of what the actual dollar amount should be documented here.
Next, when a buyer is using their benefit of a VA Loan, one must account for the VA funding fee. The amount (or percentage of the loan amount) depends on the current status of the eligible veteran. Usually, the funding fee is financed or added to the VA Loan amount. However, this can be paid by the veteran or the seller credit money can be used to apply to cover this additional cost. See below for how this should be documented in the contract:
These are some of the more critical components one must consider when writing a purchase contract for a buyer who will use/depend on a VA Loan to finance their home purchase.
As always, it is best to have a open, clear communication with a mortgage lender who has the experience, knowledge and, execution ability to help you. If you have not chosen nor committed to a mortgage lender, please consider reaching out to me at william@newcastle.loans. I'd be thrilled to help and answer any questions you have.
If you're not sure where to get started, make sure to try out our VA Loan Calculator. You'll be able to see your VA Loan options as well as all the rates and fees in real-time.