What's included in closing costs?
Home closing costs include pre paid charges and non-prepaid charges. These costs are not part of a down payment. For example, when you apply for financing using USDA financing or VA financing you are likely thinking no down payment mortgage means no cash needed to close. Sorry. Down payment and cash to close are different.
Down payment represents the percent of the purchase price required to be from you to get the loan program you are applying for. Cash to close represents closing costs (pre paid and non-pre paid charges) What are home closing costs? They vary by lender, interest rate and program selected.
The chart below offers a breakdown of closing costs. The sample is cash to close for a USDA purchase. The Description column represent the itemized closing costs. These are general descriptions and should help give a borrower a sense of the types of items included in closing costs, both prepaid and non-prepaid charges. The dollar amounts can vary as well.
Lines B through E are the non prepaid expenses. These include true costs that a borrower is paying to get the loan. Credit report, appraisal, etc. These costs exists because the loan is going to exist.
Lines F through G are pre paids. These represent the homeowners insurance needed, the property taxes, and reserves being established by the lender for future insurance and tax payments that will be held in escrow to pay those bills when they are due.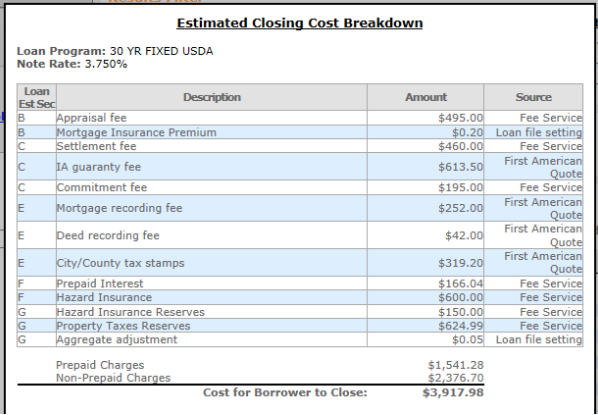 What is cash for borrower to close?
Cash for borrower to close is the amount of money needed to close your loan on closing day. This is the purchase price minus credits plus closing costs (both non pre paids and pre paids). The illustrated loan is a no down payment mortgage, but the borrower needs $3917.98 to close. Remember these charges will vary by lender, date of month for closing as well as other factors.
Who pays closing costs?
These charges are the responsibility of the buyer. They appear as charges to the buyer on the closing disclosure on closing day. Of course at times buyers tight on cash can ask for the seller to pay these costs or a portion of them. This is part of the original purchase agreement negotiations. Ask your lender for the estimated closing costs so you know what to ask seller to pay if that is going to be part of your buying strategy.
Does no down payment mean borrower needs no money to close?
Not necessarily. Contact newcastle.loans for an accurate assessment of cash for closing. We can do this quickly and explain the numbers clearly to borrowers and agents as needed.
Tweet your mortgage questions. Get answers from our staff underwriters.

Subscribe and never miss out. We'll keep an eye on mortgage rates for you - for free. You'll get monthly tips too.

Learn more about finding the best mortgage rates.