When you put less than 20% down on your home, you're required to pay for mortgage insurance. But that doesn't mean the mortgage insurance is permanent. By canceling your mortgage insurance, you can save hundreds of dollars every month.
In this blog, we'll explain how to get rid of mortgage insurance whether you have an FHA or conventional loan.
Before we get started, we have an in-depth article covering everything you need to know about mortgage insurance. You'll get the background you need before you start figuring out how to make your insurance payment disappear.
How do I get rid of private mortgage insurance (PMI) with a conventional loan?

You can get rid of your private mortgage insurance (PMI) by simply making on time payments. Your PMI automatically terminates when your loan balance is down to 78% of your property's appraised value. Not today's value, but the value of the home when you got the loan. However, it takes a long time for your PMI to auto-terminate. Depending on how much you have invested in the home, this can take approximately seven years or more.
But you can slightly speed up the process without changing your payment by beating your mortgage lender to the punch. To cancel your PMI faster, you need to have 20% or more equity invested in your home. Once your mortgage balance hits 80% of your home's appraised value, you can contact your mortgage lender to cancel the insurance. You may need to order a new appraisal, which costs around $500. That way, you don't have to wait for the balance to hit 78%.
To calculate your loan balance percentage, divide your current loan amount by the appraised value of the home. For example:
$160,000 (current loan balance) ÷ $200,000 (appraised home value) = 80%
Keep in mind - PMI will not auto-terminate on investment properties, 2-4 unit homes, or if you're behind on your mortgage payments. In addition, you may have to prove you don't have any other liens on the home.
Is there a way to get rid of PMI faster with a conventional loan?

If you don't want to wait for the set amount of time until you have 20% invested in the home, you have some other options:
How do I cancel FHA mortgage insurance (MIP)?

For government backed loans like FHA (but not VA), you will pay mortgage insurance (MIP) for the life of the loan. Unlike conventional loans, you can't wait for the mortgage insurance to auto-terminate. But there is a solution - you can cancel your MIP by refinancing out of it.
Specifically, you'll need to refinance into a conventional loan and have a current LTV of 80% or more. With home values up and mortgage rates down, refinancing now is easier and better than ever. Depending on your situation, you could save hundreds every month by lowering your rate and payment - or shortening the term of your loan.
In order to start you refinance, use our refinance calculator. You'll be able to see live rates and fees showing how much money you could save.
If you're curious about how much you can save, take a look at the example below. The monthly savings and total all depend on the loan you go forward with. In the example below, the borrower was able to cut their monthly payment by $258 by eliminating MIP - even with a higher interest rate.


Old 30-year fixed FHA Loan:
$215,000 property value

$202,000 starting loan amount

$936 mortgage payment at 3.75% interest rate

$213 mortgage insurance payment

$1,149 total monthly payment
New 30-year fixed Conventional Loan:
$235,000 property value

$186,700 loan balance and new loan amount

$891 mortgage payment at 4.0% interest rate

$891 total monthly payment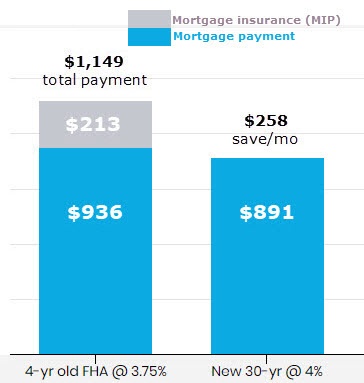 Where do I start if I'm ready to get rid of my mortgage insurance?

Everyone's situation is different. For the best direction, reach out to one of our home loan experts. They will be able to provide you with advice catered to your situation.
And, like we said earlier, refinancing is often the best option. You can get started by checking out our refinance page, scrolling down, and using our refinance calculator. This will give you real numbers to look at and see how much you'll save.
Likewise, feel free to leave a comment below. We hear questions about mortgage insurance every day. We'd be happy to give you any answers you need!