This article will explain why it's important to disclose your loan purpose.
What does loan purpose mean?
Loan purpose is the primary reason a borrower is requesting a loan.
Examples of a home loan purpose:
Purchase
Purchase a single-family home, multi-family home (up to 4 units), condo, town home, planned unit development (PUD)

Purchase a second home or vacation home

Purchase an investment property
Refinance
Refinance to lower current mortgage rate & lower monthly mortgage payment

Refinance to shorten or lengthen time to repay loan

Refinance to take cash out of home to pay credit cards balances with high interest rates

Refinance to make home improvements
Does the loan purpose influence a mortgage rate?
Yes. Loan rates are determined by many variables and the loan purpose is one variable.
The loan purpose helps the lender determine the level of risk. Borrowers can benefit from a loan purpose. An example could be a two income family that is currently renting and would like to become a first-time home buyer (The First-Time Homebuyer's Guide). If the borrower has few debts, good credit, and a substantial down payment, the lender might determine this opportunity as low risk and motivate the borrower with very competitive pricing and terms to finance this family's first home.
Are there different underwriting guidelines for different home loan purposes?
Yes. The lender uses different guidelines for different loan purposes. Each loan purpose can require the borrower to provide different documentation to underwrite their loan.
The Uniform Residential Loan Application is also known as 1003.
Section 2 of the standard home loan application is shown below. The purpose of the home loan is highlighted in yellow and is the section where applicants are required to mark the appropriate box as to why they are applying for a loan.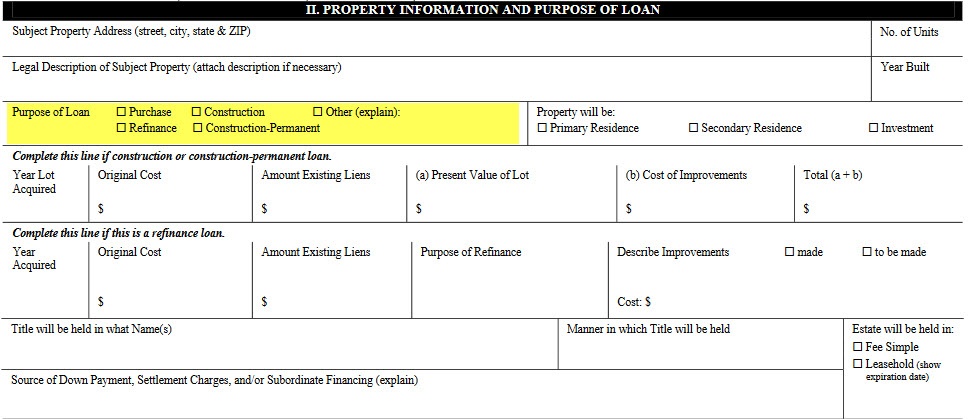 Summary
Loan purpose is important to properly disclose in the application process for a home loan. Some examples of loan purposes are purchase (single family home, investment property) and refinance (lower current interest rates, home improvements).
Mortgages rates are determined by risk-based pricing. We used the example above of the first-time home buyers and how loan purpose can be to the borrower's advantage. When borrowers take on less risk, they receive better mortgage rates and loan terms from lenders.
What is the purpose of your home loan?
Tweet your mortgage questions. Get answers from our staff underwriters.

Subscribe and never miss out. We'll keep an eye on mortgage rates for you - for free. You'll get monthly tips too.

Learn more about finding the best mortgage rates