Are you curious how much it will cost you to own a home? That seems like an obvious question, but it's a crucial one to ask. To have a clear picture of how much money you need, it's important to know what your monthly payment will be and how it's calculated. Your mortgage payment comes down to PITI - principal, interest, taxes, and insurance.
Mortgage Payment = PITI
1. Principal
This is the amount which you initially borrowed and must repay. When you borrow $100,000, the principal amount is $100,000. Principal payments remain the same all throughout the loan term.
2. Interest
The interest is the amount your lender charges you for borrowing money. Like the principal, your interest payment remains constant. The higher the interest rate, the higher the mortgage payment
3. Taxes
You also have to pay property taxes to the government, based on your home's assessed property value. Unlike the principal and interest payments, your real property tax can be changed based on an assessment and property tax payments and are due once or twice a year.
4. Insurance
There are up to two kinds of insurance you may have to pay for your home. There's the homeowner's insurance that protects your home in case of accidents, fires, and other emergencies. Then there is the mortgage insurance. Normally, you are required to purchase mortgage insurance if your down payment is less than 20% of the home's purchase price.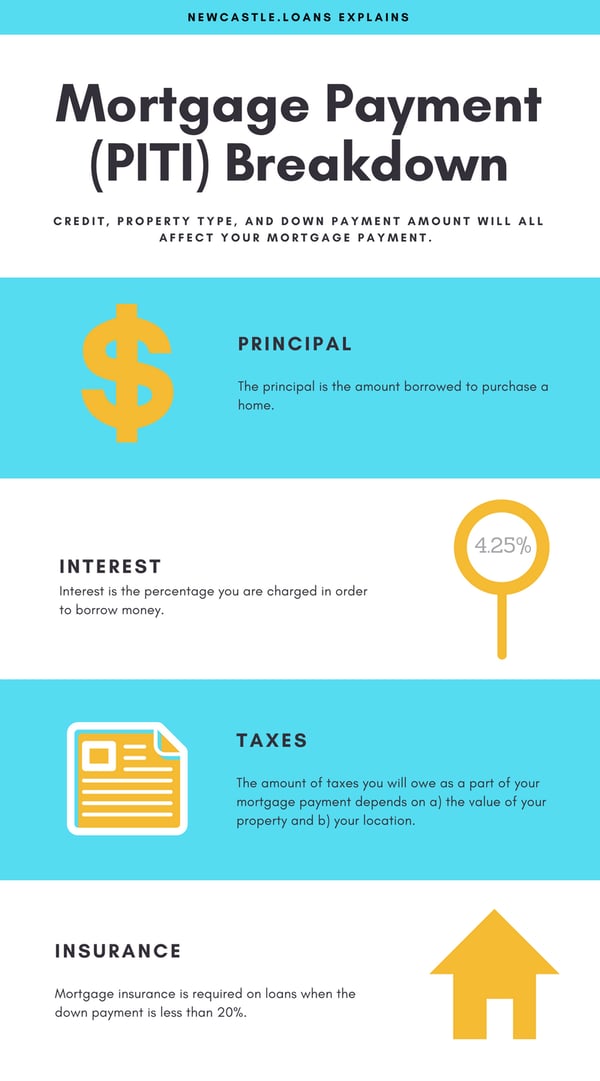 But wait, there's more!
If you live in a condo or your neighborhood has a homeowner's association, you may have to pay association dues and other fees. These payments are not included in your mortgage payment.
When applying for a loan, remember to review your loan estimate for the total monthly payment. Don't just focus on the principal and the interest.
Ready to see some real numbers? Click the button below to use our free mortgage calculator and see exactly how much a home will cost you and what kind of house you can afford.