It's a seller market. Homes are scarce, and prices are high. But sellers are likely to discount homes that need repairs since they're harder to sell. With the FHA 203k Loan, you can buy a run-down house for dirt-cheap, modernize it, and gain instant equity. Here's a scenario I hear all the time:
Rosa wants to buy a fixer-upper for $200,000 and spend about $75,000 to make improvements. She needs to borrow money to purchase and renovate the house.
Her bank offered her a $190,000 conventional loan so that she can buy the place, but they won't give her the money she needs to fix it up. The bank doesn't do renovation loans, and they won't extend a home equity loan either because the property has no equity.
"Sure, I don't have equity now, but the place will be worth so much more after I improve it," Rosa explained to the bank's loan officer. Rosa is disappointed that the bank turned her down. The house is perfect for her. It's a sensible investment too because the listing price is well below the market value.
The FHA 203k Rehab Loan might be your solution.
As she looks into other loan options, Rosa comes across some info about the FHA 203k Rehab Loan. It's a home renovation loan she can use to borrow the money she needs to buy the house AND pay for the improvements.
The FHA 203k Loan can be a perfect all-in-one purchase and renovation loan for home buyers. But not every home improvement plan is the same. Before you invest time and money, you should know if the 203k Loan will work for you. You can see our 3-step guide for details on FHA 203k Rehab Mortgages here.

And this article will help. I'll show you an easy way to figure out how much you can borrow and how much it will cost to buy and renovate a house using the FHA 203k Loan. Let's use Rosa's scenario as an example. You can change the numbers to match your situation.
How to use the FHA 203k Loan Calculator.
First things first, go to HUD's FHA 203k Calculator page. Once there, you'll need to complete three steps:
Add up the costs, fees, and reserves.

Estimate the value of the

property.

Calculate the maximum mortgage.
To start, enter the property address, your name, and the loan features. If you don't know, then copy the information from my example.
Step 1: Repair Costs, Fees, and Reserves.
The 203k Rehab Loan comes with extra fees and reserve requirements. They can total 10% - 25% of the cost of your rehab project. Fortunately, you can add the fees and reserves to the loan along with the repair costs.
Take a few minutes to read through Step 1. You want to know how much the fees and reserves cost and why you need them.
A. Repair and Improvement Costs and Fees fall into seven categories:
The Costs of Construction, Repairs, and Rehabilitation come from the contractor's estimate or bid. If you don't have a proposal from a contractor, then use your best guess at how much a contractor will charge you for material and labor.

You pay an Architectural or Engineering Professional Fees only if you choose to use an architect or engineer to help with your plan.

203k Consultant Fees range from $400 - $1000. The consultant visits the property to perform a comprehensive review of your project. Then he prepares a Work Write-up and makes sure that the contractor completes the job as planned.

Draw Inspection Fees pay the 203k consultant for periodic site inspections. His site inspections ensure that the contractor does quality work and stays on schedule. Depending on the size of your project you could have five draw inspections at most. Each is $150. Typically, you only need 1 or 2.

Title Update Fees protect you and lender from subcontractor mechanic liens. We order a title update after each draw inspection. They're $125 each.

Enter the Permit Fees unless the contractor includes them in the estimate. If Permit fees are part of the bid, then they're covered in A1. Make sure you ind out early who gets the building permits because you can't start work without them.

Get a Feasibility Study if you have no idea what repairs to make. The 203k consultant charges an extra $100. Otherwise, you don't need one.
B. Financing Contingency Reserves are usually 10%, but they can be up to 20% of the costs of construction - A1. The reserves pay for unexpected items and cost overruns. After you finish the project, we refund you the unused reserve account balance.
C. Financeable Mortgage Payments Reserves. If you don't want to live in the construction zone, then you can add up to six months of mortgage payments to the loan amount and use it to pay for temporary housing.
D. The Financeable Origination Fee is $350 or 1.5% of the loan amount, whichever is more. It's our fee for setting up and managing the escrow account.
E. Add Step 1's Total Rehabilitation Cost to your FHA 203k Loan amount.
Step 2: Establishing Value, As-is, and After-improved.
We pin two values to the property you plan to buy, the "as-is" and the "after-improved." In Step 2, I'll show you how to come up with estimate values for the 203k Calculator.
A. The Purchase Price is the amount of cash you agree to pay the seller for the house. The purchase price is typically the Adjusted As-Is Value - 2E. "As-is" means what it's worth now before you make repairs and improvements.
F. Enter the After-improved Appraised Value, or at least your best guess at what the value of the place will be after you make the repairs and improvements. We'll update the number later after we order the property appraisal and get the finished report from the real estate appraiser.
Remember to be realistic. Don't expect the property value to increase by the amount you spend on repairs and improvements. In other words, you probably won't get a dollar-for-dollar return on your investment right away.
If you have no idea how much the place will be worth after you improve it, then ask a real estate agent for help. The agent will complete a comparative market analysis for you.
Step 3: Calculate the Maximum Mortgage.
Complete Step 3 to see how much you can borrow.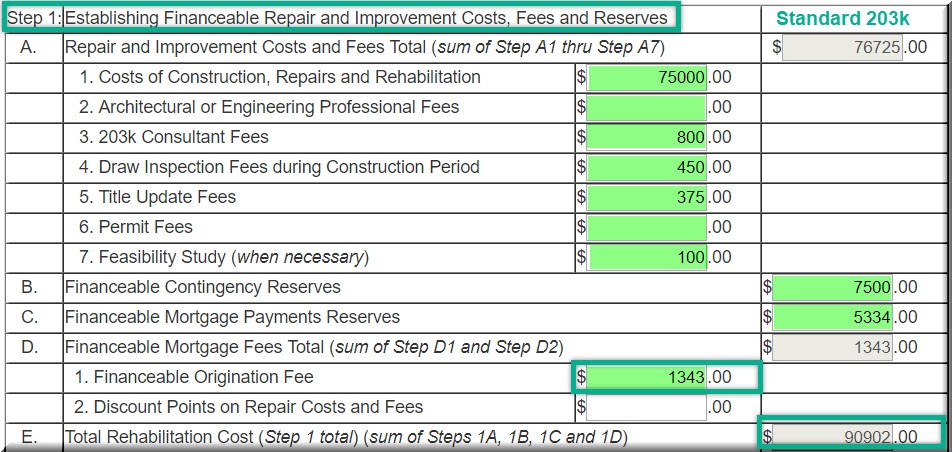 Take the lesser of:
A. The As-Is Value (the purchase price of the house)
B. Or the After-Improved Value multiplied by 110%.
You can borrow up to 110% of the after-improved value of the house. The appraiser comes up with the after-improved value when he reviews the 203k consultant work write-up or the contractor's bid.
D. Multiply the lesser of A or B by 96.5% to get your base mortgage amount.
E. Make sure your base loan amount isn't more than the FHA Mortgage Limit for the county where you're buying the house.
F. Congrats! You calculated the Base Mortgage Amount for your FHA 203k Loan.
Set realistic expectations when you do a 203k Rehab Loan.
It's a seller market. Homes are scarce, and prices are high. But sellers are likely to discount homes that need repairs. They're harder to sell. With the 203k Loan, you can buy a run-down house for dirt-cheap, modernize it, and gain instant equity.
You might have more luck finding a four leaf clover. Just make sure to establish realistic expectations. Understand that the 203k Loan has limits. Your renovation project might not fit within the program limits. Test your scenario by running it through the 203k Mortgage Calculator early so that you don't waste time or money on a project that won't work.
If your project qualifies, then carefully consider the extra work required to close a 203k Loan. You should plan to collaborate with a 203k consultant, review plans, and negotiate with contractors. You might realize organizing a renovation project and applying for a mortgage with a deadline is more than you anticipated.
Want to get started? Assemble your team of renovation experts.
On the other hand, if you're psyched-up and ready to move forward with the FHA Home Renovation Loan, then assemble your team of experts, including a loan officer, real estate agent, real estate attorney, 203k consultant, and contractor. They're all essential to your success.
Start by choosing a loan officer with 203k experience. Very few loan officers are 203k experts. Shop around. It's worth the effort, because you quickly learn that a 203k loan expert is a key that turns your dream into reality. They answer your questions, qualify you for the mortgage, and guide you through the entire process so you always know what to expect.
Try an online remodeling tool like Kukun to help you plan and budget.
Questions? Talk to one of our 203k experts.
Schedule a call with me and let's talk about your fixer-upper.
Want to know even more about the 203k Rehab Loan and FNMA HomeStyle Renovation Mortgages? Download our Complete Guide to FHA 203k Rehab Mortgages.