If you are planning to get a mortgage and gathering information about mortgages, you likely asking "what are prepaid items?" - we want to help you understand this. Read on!
Prepaid items are items that will be paid for as a part of getting your mortgage. They include: Interest, insurance, taxes, homeowners association fee, etc. A brief explanation for each follows. Below is the prepaid section form a Loan Estimate for a recent refinance loan.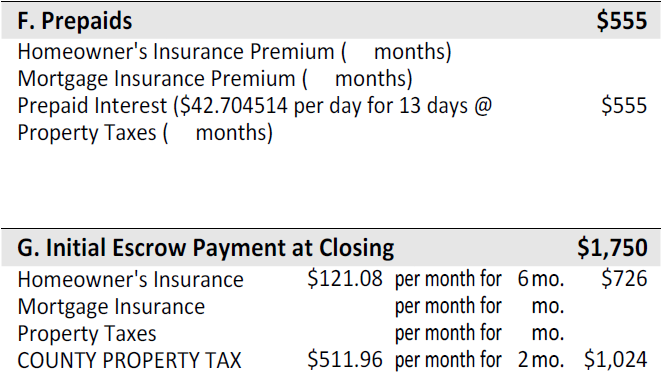 Here is a sample for a recent purchase loan.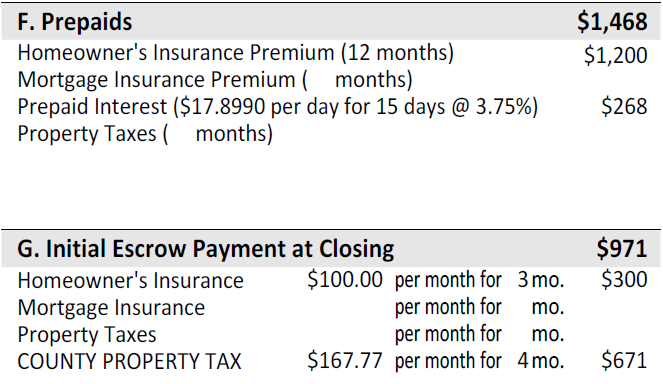 Here's a breakdown:
Interest: This item represents the prepaid interest due from closing date until the end of the closing month. For example, if your loan closes on the 15th of the month you'll be required to pay 15 days interest for a month with 30 days in it. This payment pushes your first payment on the loan the first of the month following. If you close in March, you pay interest until April 1 at close, then your first full payment is due May 1. You skip that first full month.
Homeowner's Insurance: There are typically two line items for home insurance when you close. First there is typically an upfront payment. For purchases, you will pay the first 12 months at closing if your lender is requiring escrow for taxes and insurance. You will select your homeowners insurance company. The billing information will be provided to your lender and the lender will use that to set up the payment. The first 12 months will be paid at closing as part of the closing settlement. Most lenders include this in your cash to close. This covers the first 12 months you own the property.
Property Taxes: This is for the city, county, or state taxes on your property. Not all of those entities will have a real estate tax. Tax bills due usually due twice annually. Typically there is not a bill that coincides with your closing. See the next section regarding escrows.
Everything started with prepaids at loan closing
Escrows: Escrow accounts are established on most loans to handle property tax and insurance payments due in the future. Most lenders will require them. Remember above where I said the first 12 months of homeowners insurance was paid at closing on a purchase? In addition to that, lenders require the escrow account to be started with a portion of the amount billed to be added to your payment, 1/12th of the total. (Bill = $600/12 = $50 as escrowed amount. Then the lender is allowed a cushion of 2 or 3 months to begin the escrow account. This money is set aside to cover missed payments, or increases in insurance premiums. Property tax escrows are calculated by using the number of months after closing before the next payment is due, and adding two months to that for the cushion. For example, the next bill is due three months after you close so your escrow would typically be five months worth of the annual tax bill.
NOTE: Your insurance premiums and taxes will increase over the life of ownership of the property. You will be notified when there are increases, your lender doesn't know until they pay a bill and see the escrow is for a lower amount due. Don't worry. The lender will pay the balance due and when they do their required annual review of escrow accounts, they will notify you of the shortage and offer you solutions to bring the amount up to date if needed. Believe it or not, this is always one of my biggest after closing questions from previous borrowers. Why was the escrow account short in escrows? Sounds like a title for a future blog, right?
Well, that might have seemed like an exhaustive review of prepaids! Hopefully things are clearer for people getting a mortgage now! Check out our live rates and estimated fees or contact us with questions about your specific needs.
Tweet your mortgage questions.

Get answers from our staff underwriters.

Subscribe and never miss out. We'll keep an eye on mortgage rates for you - for free. You'll get monthly tips too.

Learn more about finding the best mortgage rates.