When it comes to getting a home loan, does your credit report and credit score really matter? Can you use the free credit score you got off the internet to apply for a loan? What if your credit score is low, can you get a mortgage? What if it is high, will you get a better interest rate? And what the heck is FICO?
So many questions. You've searched the internet and are still confused. If you are new to getting a mortgage and are overwhelmed by understanding your credit score you are not alone. Your credit score has a big impact on your ability to qualify for a loan and get a favorable interest rate. Therefore, you should take the time now to understand it.
Here's the good news. We're here to explain things simply and clearly. Step by step we will walk you through all things credit. When we're done, you'll know what you need to know to understand how credit impacts your ability to get a mortgage so you can make smart home buying decisions.
Below are the important items we will discuss:
What is a credit report?

What do mortgage lenders use to determine my credit score?

What does FICO stand for?

What determines my FICO score?

What's a good FICO score?

What if my FICO score is below 620?

Can I get a copy of my credit report?

Ah Ha! Now I understand all things credit and I'm this much closer to owning my home!
What is a credit report?
A credit report record's your credit history including information about:
Your identity: name, social security number, date of birth and possibly employment information.

Your existing credit: credit card accounts, mortgages, car loans, students loans etc.including credit terms, how much you owe, and your payment history.

Your public record: Judgments against you, tax liens or bankruptcies.

Recent Credit Inquiries: Requests for your information from companies extending credit such as credit card companies, auto loans, etc.
Be aware, credit card companies, car companies and mortgage lenders use slightly different models to determine credit risk. Today we are focusing on Mortgage related credit.
How do lenders calculate my credit score?
Your credit score is the key to your castle. Your home is most likely the most expensive purchase you will ever make. Therefore, when buying a home, lenders use a different system for assessing risk than credit card companies or even auto loan companies use.
Mortgage lenders use a comprehensive system of checking credit called a Residential Mortgage Credit Report (RMCR), commonly called a "Tri-Merge" report. The RMCR report combines your three credit reports from the three national credit bureaus, Equifax, Experian, and TransUnion. Each credit reporting agency calculates your credit score or FICO Score differently. Therefore, pulling from all three bureaus gives lenders a more complete picture of your credit behavior.
Once pulled, lenders use the average of these three scores, usually the middle score, to determine loan qualification and interest rate. For example, if Equifax gives you a 720, Experian a 730 and TransUnion a 740, the lender will use the 730 FICO Score to help determine the terms of your mortgage. If you are applying for a loan jointly, your partner's three reports will also be pulled.
What does FICO stand for?
FICO stands Fair, Isaac and Company. Over 25 years ago, lenders began using FICO's scoring model, or algorithm, to fairly and more accurately determine a person's credit risk. Since it's inception, FICO's continually updates its' algorithms to reflect more current lending trends and consumer behaviors. Today, FICO Scores are used by over 90% of enders. Importantly, your FICO score can impact your loan interest rates, terms, approvals and more.
What determines my FICO score?
A Mortgage FICO score is determined by an algorithm that generally looks at five credit factors including payment history, current level of indebtedness, types of credit used, length of credit history and new credit accounts.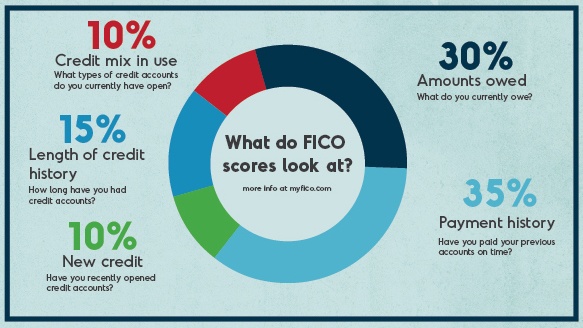 What's a good FICO score?
To qualify for a conventional loan, most Mortgage lenders require a FICO score of 620+. The best interest rates go to borrowers with a 740+ FICO score. For each 40 point drop, borrowers can expect to see a slightly higher interest rates by about 0.2 percentage points. If a borrower drops below 660, the increase is likely to be twice as big, a 0.43 percentage point increase. If your credit score is below 620, it is very difficult to get a conventional loan in today's marketplace. However, don't be discouraged. You may still be able to buy a home.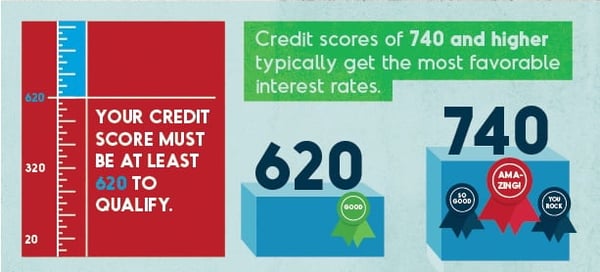 What if my FICO or credit score is below 620?
If your score is below 620, you may still be able to buy a home. There are several options:
Put more money down. Some lenders offset a weak credit score with a higher down payment. A higher down payment gives you more equity in your home, lowering the lender's risk.

You may qualify for a non conventional government issued loan such as an FHA, Veterans Affairs and/or U.S. Department of Agriculture loan which have less stringent lending requirements.

You may work to get that credit score up!

Correct any errors on your report. Analyze your credit items line by line. If you notice a mistake, dispute it right away with either the credit bureau providing the report or the company that providing the incorrect information to the credit bureau.

Make all your payments on time. Late payments are the No. 1 way to lower your credit score.

Pay down revolving debt. Keeping your credit balances low helps to raise your score.

Sit back and relax. As long as you're paying down debt and making payments on time, your credit score will eventually rise on its own.
Can I get a copy of my credit report after a lender has pulled it?
Yes! In fact, you can get one free credit report every twelve months from each of the nationwide credit bureaus—Equifax, Experian, and TransUnion. You may also purchase your credit score at any time from any of the credit bureaus. Some Mortgage lenders will tell you your score when you apply for a loan or even give you a copy of your report but they are not required to do so. However, if a lender denies you credit, under the Fair Credit Reporting Act (FCRA) you are entitled to a free copy of your personal credit report if you have received notice that in the past 60 days you have been declined credit.
You ALWAYS get a free copy of your credit report from NewCastle Home Loans
At NewCastle Home Loans we believe in transparency. When you apply online, we will pull your credit from all three agencies and give you a free copy. You don't even have to ask for it. It will be in your inbox for your review at the same time we get it for review. It's part of the Approved Buyer's Cert (ABC) process. Go through the ABC's online at NewCastle Home Loans and In less than 15 minutes, we'll give you an underwritten mortgage approval. Better than a pre-approval based on assumptions, it's an actual mortgage approval. Know what you are approved to purchase even before you find the home of your dreams. Simple and straight forward.
Ah Ha! Now I understand all things credit!
That's right! By now you are an expert in credit, especially as it relates to getting a mortgage. If you have any more questions, feel free to give us a call! One of our NewCastle Home Loans experts is ready to assist you. 1-800-486-1100. Or click on the chat box at the bottom of the page. And make an appointment with one of our experts in our Chicago office.
Did I miss something? Leave your comment below.