You've accepted an offer on an amazing new job with a company in a different state...now you need to find and buy a new home for your family and move before starting your new job. But how can you qualify for a mortgage using the income from a job you've not started yet?
Question:
Can I close the purchase of a home before I start my new job?
Situation: Graduating from MBA school with offer in hand, going to be moving my family across country and want to know if it's possible to close on a house before I start work (like a month or two). Got off the phone with a mortgage underwriter and he said you cannot close until you have a month or two of paychecks under your belt. Is this lender specific or the general rule?
Obviously having to move to something short term and then move again all while starting a new job would not be ideal. Thoughts?
Answer:
Yes! Fannie Mae updated their guidelines on July 25, 2017 and they now allow you to close on a mortgage, using income from a new job to qualify, prior to starting said job.
According to Fannie Mae Selling Guide B3-3.1-09: Other Sources of Income, if the borrower is scheduled to begin employment after the loan closes, the lender may deliver the loan (i.e. you can qualify the borrower using income based on an employment offer or contract in accordance with one of the options outlined below.

Option 1 assumes that you will start your new job shortly after closing and will have a pay stub available to send to your lender within 60 days of closing your loan.
Before the loan closes, you would provide your lender with the copy of the signed offer or contract which details what your anticipated income will be, before the loan closes.
After the loan closes, within 60 days, you will need to send your lender copies of your pay-stubs from the new job.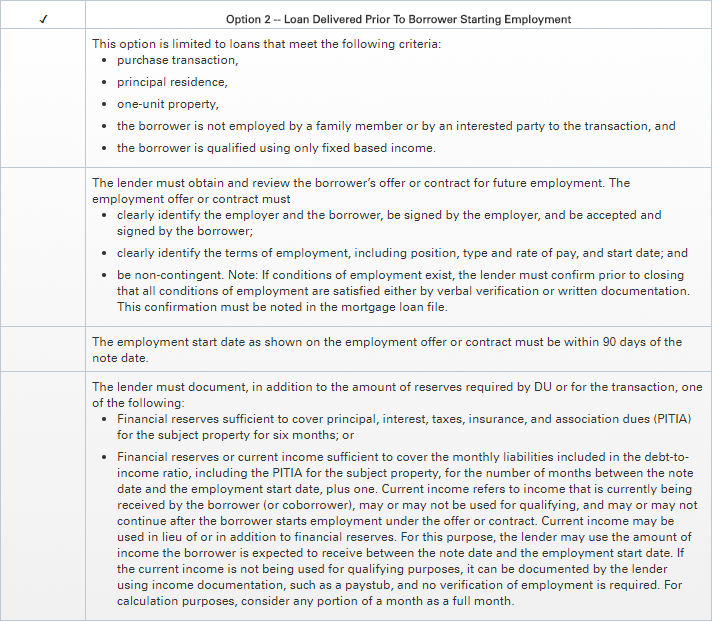 Option 2 does not require you to submit a pay stub to your lender after closing, but has several additional criteria that must be met before the loan closes, as outlined above. The type of property, occupancy, employment offer, employment type and your assets will all be looked at more closely… and your start day must be within 90 days of the date you close your loan. There are many more hoops to jump through when using this option but if you get through them all, you can close on your home before you start your new job.
The lender you spoke to is underwriting to old guidelines. Find a lender who keeps up with the ever changing guidelines and implements them as they are issued. Many lenders are either not aware of new guidelines or are slow to implement them, which can cost you, the borrower, time and money.
In addition, if you're still early in your home search, make sure to download our free First-time Home Buyer Guide and learn how to go through the home buying process step-by-step.