How does mortgage insurance work?
These days, it seems like people will try to sell you insurance for everything. There's car insurance, health insurance, pet insurance, earthquake insurance...you can even be insured for alien abduction.
But do you need all of this? Sometimes, it's hard to tell.
This guide is built to help you understand mortgage insurance, if you need it, how you get it, and how to eventually get rid of it.
What is mortgage insurance?
Mortgage insurance is pretty much exactly what it sounds like - insurance for your mortgage. It exists to lessen your lender's risk when giving you a loan. It is the last "I" in PITI - an acronym that explains what makes up your mortgage payment.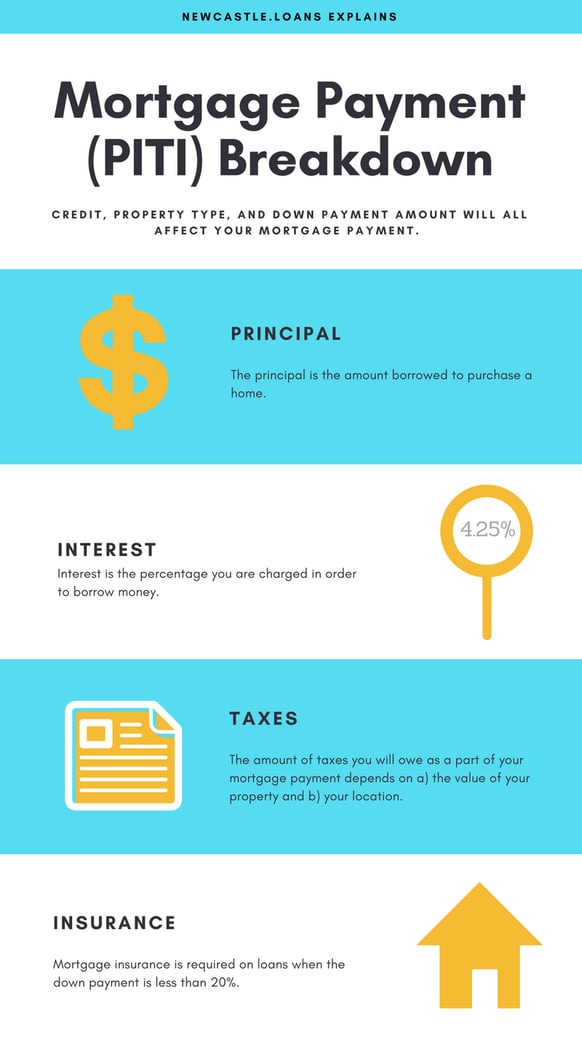 Mortgage insurance allows you to qualify for loans you might not be able to get without a 20% down payment. It allows you to put less money down to buy a house if cash is tight. However, it will increase your total monthly payment.
Do I need mortgage insurance?
On conventional loans, mortgage insurance is not mandatory for every borrower. If you are able to put a 20% down payment on your purchase then no mortgage insurance is required. But, in the event that you can't or don't want to put 20% down, you will need to have mortgage insurance as part of your loan.
However, FHA, VA, and USDA loans require a mortgage insurance premium (MIP) for the life of the loan.
Depending on your loan type, you'll pay for your mortgage insurance at closing or decide to roll it into your monthly payments.
Here's how you'll buy mortgage insurance according to The Consumer Financial Protection Bureau:
Lenders will set up your private mortgage insurance (PMI) through a private company if you are getting a conventional loan. The Lender can roll it into your monthly payment with little or no initial cost at your closing. Once you have 20% equity in your home, you no longer need to pay for mortgage insurance.
With a Federal Housing Administration (FHA) loan, you will pay mortgage insurance premiums (MIP) directly to the Federal Housing Administration. You'll pay this during closing and as part of your monthly payment for the life of the loan. In addition, UFMIP (Up Front Mortgage Insurance Premium) is required on all FHA loans and can be financed into the loan amount.
US Department of Agriculture (USDA) loans, like FHA loans, require you to pay mortgage insurance premiums (MIP) for your insurance during closing and as part of your monthly payment for the life of the loan. There's a 1% upfront guarantee fee on USDA loans.
Mortgage insurance is not required to be purchased separately for Department of Veterans' Affairs (VA) loans because it is included as part of the VA guarantee for the life of the loan. However, there's a "funding fee" paid upfront with VA loans that is calculated based on these factors.
How much will mortgage insurance cost me?
The same information that you put into our mortgage calculator will be used to determine your mortgage insurance rate on a conventional loan (government loans have predetermined mortgage insurance rates for the life of the loan). This infographic breaks down the steps to calculate PMI.
Fees usually vary from 0.3 percent to 1.15 percent of your loan amount per year. Contact your lender to discuss how much mortgage insurance will be for your particular loan.
A good loan officer will shop mortgage rates for you. We not only have the lowest rates, we also have access to super competitive mortgage insurance rates. Our goal is to keep your monthly payment as low as possible.
How to get rid of mortgage insurance.
On government-backed loans (like FHA loans), you will pay MIP for the life of your loan.
In order to get rid of your mortgage insurance on conventional loans, you need to have at least 20% equity in your home. You can ask your lender to remove PMI once you've paid your mortgage balance down to 78% of your home's original appraised value. But sometimes, the servicer of the loan will make the borrower order an appraisal to show that the property is at least 80%.
Another way of canceling your mortgage insurance is to refinance your mortgage.
If home values in your area have increased, if you've increased the value of your home with new additions, or you have paid your mortgage balance below 80% of its original value, you can apply for a refinance loan which does not include mortgage insurance. Check out our refinance calculator to see if refinancing could help you save money.
Wherever you're at in your mortgage journey, we're here to help. Contact us today for a free consultation or check out your mortgage rates online in real-time.
Tweet your mortgage questions.

Get answers from our staff underwriters.

Subscribe and never miss out. We'll keep an eye on mortgage rates for you - for free. You'll get monthly tips too.

Learn more about finding the best mortgage rates.