The mortgage closing is the most important aspect of your mortgage transaction. Your John Hancock is needed for all your application and disclosures, which legally commits you to your loan by signing. We have created a closing checklist to help you prepare and feel confident about your closing!
Don't forget:
Your personally assigned mortgage professional will send you a detailed message on when your first payment will be due.

Make your first payment on the new loan to NewCastle Home Loans unless we notify you that we transferred the loan servicing to a different mortgage company.

We will monitor your credit history until we fund your loan.
Your loan will fund 3 business days after you close (refinances only).

Don't open any new accounts or let anyone check your credit history until after we fund your purchase or refinance.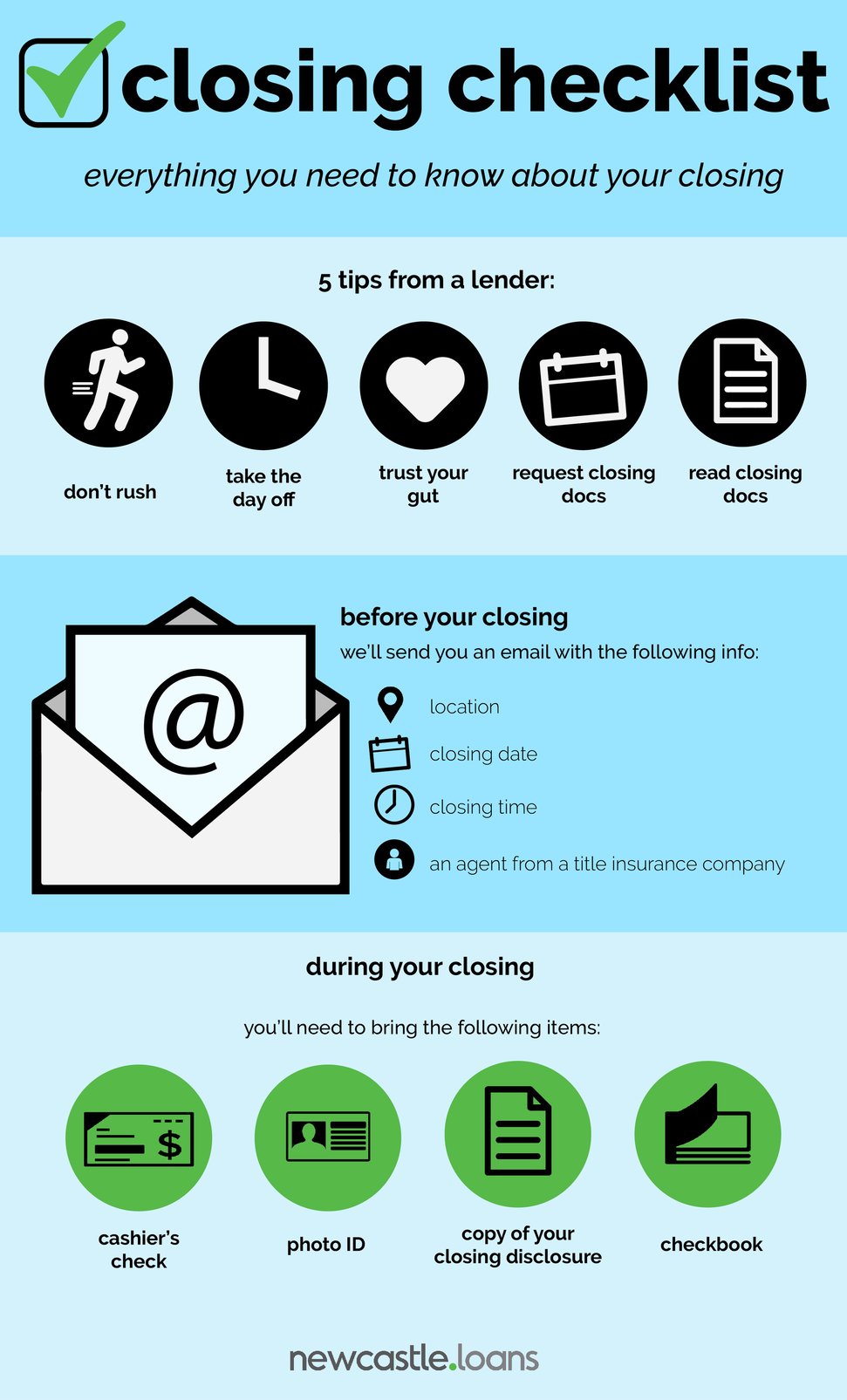 Here is a list of to do's to help better prepare you!
Do not RUSH! Take your time. If you don't understand a document that you are signing ask questions. This is the biggest loan you will ever have, it is a big deal!

Your closing will take no longer than 2 hours, most of the time they are under 1 hour, it really depends on the number of questions that you have, so take your time and make sure you have the day off.

Trust your gut. If you feel that something doesn't seem quite right it is better to walk away at the closing table than to sign a deal you are not comfortable with.

Request your closing documents 3 days in advance of your closing.

Important Closing Documentation to read in advance
Before your closing.
When your closing is confirmed we will send you an email containing the following information:
Location of closing

Closing date

Closing time

An agent From a Title Insurance Company
During your closing.
What you will need to bring with you to the closing:
A cashier's check or proof of wire transfer for the amount of money you need to close. A personal check up to $1,500 is OK. Double check with the Title Company to be safe.

Make your check payable to The Title Insurance Company in the amount of your cash to close.

Photo ID, like a valid Driver's License.

A copy of your CD

Your checkbook, in case there are any last minute changes
After your closing.
What you should know:
Your current mortgage will be paid off. Your personally assigned mortgage professional will send you a detailed message on how to proceed with payments.

Do you have an escrow account with your current mortgage? If you do then the company servicing your current mortgage will send you a refund check within 30-days after you close on the refinance. Look at your last account statement or call them for an exact escrow balance.

If you are buying a new home, don't forget to change your address!
Click here for a downloadable PDF from the Consumer Financial Protection Bureau.
Tweet

your mortgage questions. Get answers from our staff underwriters.

Subscribe and never miss out. We'll keep an eye on mortgage rates for you- for free. You'll get monthly tips too

Learn more about our closing process.