If you're an active service member on duty, a veteran, or a spouse of a veteran, you may take advantage of the VA Home loan program. You can check the eligibility criteria below to see if you qualify:
Active servicemembers and veterans: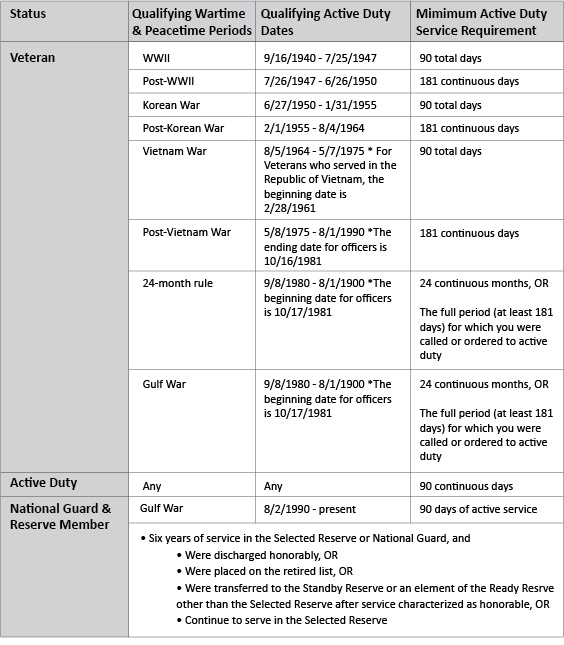 But what if you don't meet the minimum service requirements?
You may still be eligible if you were discharged because of the ff:
Hardship

The convenience of government

Reduction-in-force

Certain medical conditions

Service connected disability
Remember: To be eligible, you must not have been discharged dishonorably.
For Spouses You may qualify if:
You're an unremarried spouse of a veteran who died while in service or from a service-connected disability.

You're a spouse of a servicemember missing in action or a prisoner of war.

You're a surviving spouse who remarries on or after attaining the age of

You're a surviving spouse of a disabled veteran whose disability may not have been the cause of death.
Other eligible beneficiaries:
A current US citizen who served in the armed forces of a government allied with the US during World War II

A member of organizations like the Public Health Service Officers

A cadet at the US Military, Air Force, or Coast Guard Academy

A midshipman at the US Naval Academy

An officer of the National Oceanic and Atmospheric Administration

A merchant seaman with World War II service
If you are eligible to apply for the program, what are the requirements you will need?
Veterans will need a Certificate of Eligibility (COE). You have 3 options to apply for a COE:

Mail:

Complete the

VA form 26-1880

(Request for Eligibility) and then send it to the

VA Loan Eligibility Center, PO Box 10034, Decatur, GA: 30031

Surviving spouses will need to complete VA form 26-1817 and:

Send to their lender for processing

Directly mail the form to

VA Loan Eligibility Center, PO Box 10034, Decatur, GA: 30031
You will need to have a good credit score. Generally, the minimum requirement is 620.

You must meet a minimum acceptable residual income. This means that after paying for the monthly loan payment, you still have enough money for other expenses such as food, transportation, etc. Your income will be evaluated with your debt-to-income ratio.
You have protected and served our country, the least we can do is help you buy your home.
For other questions about the VA loan program, you may call us at (855) 610-1112 or email us and we will be happy to assist you.
You may also visit the website of the Department of Veterans' affairs.