Here's the problem. Calling and emailing lenders takes time. They don't usually return your messages right away. Then there's shopping online. We all know that leads to a bunch of ads with suspiciously low mortgage rates - click bait designed to suck you in.
At this point, you're just shopping. You're not ready to apply for a loan yet. So why would you give your name, phone, email and your social security number to complete strangers before you get a bona fide mortgage rate quote?
You know what I'm talking about if you've shopped for a mortgage recently. If you're just getting started on your refinance, then read on and let me save you a few steps.
There's a better way to shop and compare mortgages.
In this article, I'll show you how to get an instant and accurate mortgage quote by using a real-time mortgage calculator. Then you'll be able to compare actual rates and fees while keeping your private info safe and sound.
What's a real-time mortgage calculator?
First, you need to know the difference between real-time and static mortgage calculators. Using the right one matters most.
You see static mortgage calculators on the big bank and mortgage marketplace websites like Zillow, Bankrate, and LendingTree.
Static calculators simply give you a rough estimate for your monthly payment based on the rate you enter. You do the legwork. You track down mortgage rates. Then you comb through lender offers to guesstimate at how much it will cost.
It seems a little old fangled, doesn't it? Particularly for huge companies that facilitate billions of dollars in closed loans. Here's a peek at Zillow's static calculator.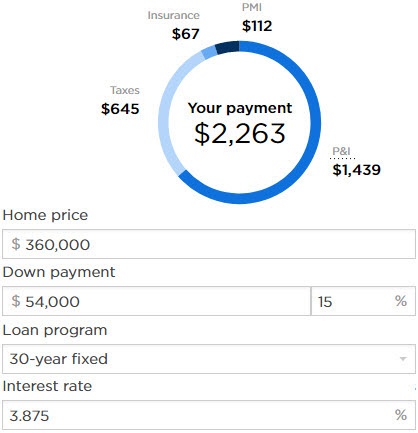 Real-time mortgage calculators are completely different. Instead of static or fake rates, you see live quotes and real numbers tied to the lender's current rates and fees.
It's online, so you can shop and compare whenever, wherever, and however you want. It's fast too. You can nail down the best deal in about a minute. A calculator that gives you the power to act quickly can save you thousands of dollars.
Shop anonymously. Here's why.
Remember the click bait ads that I mentioned earlier? Well, the advertisers like LendingTree, Bankrate, and Zillow who pay for those eye catching links want your private info so that they can sell it. You'll never get the "instant quote" you bargained for so don't fall for it.
Instead, get a mortgage quote first. Make the lender show you the money before you give away your name, phone, email and your social security number.
Review the quote. If you like it, then apply for the loan.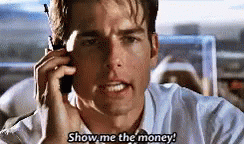 Get all the numbers in a minute. Here's how.
1. Enter some basic info to get started. Give the lender your zip code, estimated property value, loan amount, and your credit rating.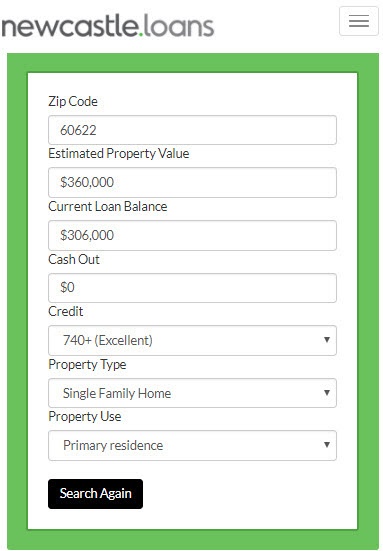 2. Check rates and monthly payments with one glance. Pick an option to take a deeper dive into the loan details. (It's a mortgage payment calculator and an FHA mortgage calculator.)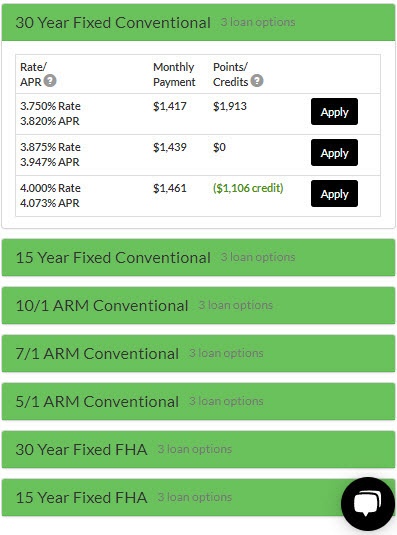 3. See a detailed monthly payment breakdown, including the property taxes and homeowner's insurance. Know the exact amount of private mortgage insurance too - if your loan has PMI. (It's a mortgage calculator with PMI.)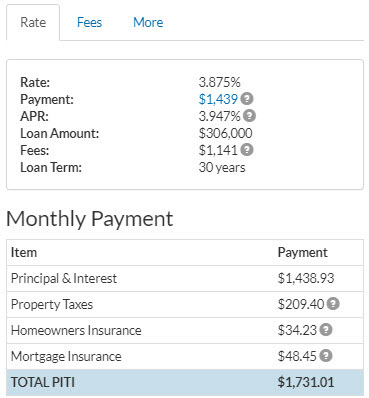 4. Find out exactly how much the refinance will cost. Don't wait. Review the details before you commit, so you're not surprised later. (It's a closing cost calculator and an amortization calculator.)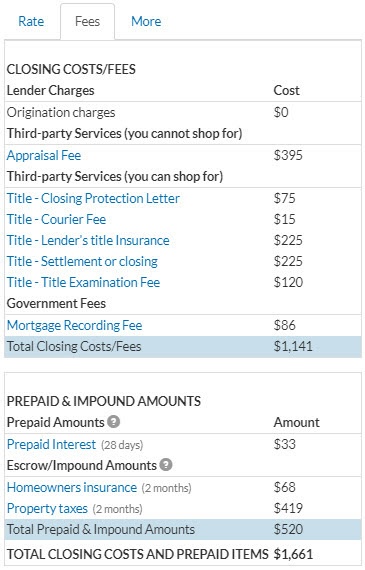 5. Like what you see? "Click" to Apply.
Lenders that use real-time calculators give you relevant and helpful information up front so that you can make the right decisions - without pushy salespeople. Apply online when you're ready. Get an official Loan Estimate immediately after you finish your application.
It's time to rethink the way you shop for a mortgage
Mortgages are complicated. Maybe that's why your last home purchase or refinance made you feel like you entered the lion's den. A real-time mortgage calculator puts you in control. Use it to choose a loan program, interest rate, and loan fees - before you even talk to a salesperson.
Wouldn't it be great if all lenders used real-time tech? Just image how satisfied you'd feel if you could compare bona fide quotes instantly. Then you could easily pick the lender that's offering the best deal, and skip the ad lies and the click bait you see everywhere on the internet.
Changes are coming down the pike. Mortgage shoppers will have it much easier soon enough. For now, however, only a few lenders offer a real-time mortgage calculator - or any useful tech for that matter. (I'll tell you why in my next article, so don't forget to subscribe.)
Check out our real-time mortgage calculator at newcastle.loans. I'd love some feedback, so please leave a comment below.