FHA Loans may not require a large down payment, but that doesn't mean coming up with the cash is easy. Thankfully, NewCastle Home Loans works with select investors who offer FHA down payment assistance of up to 2% of the home's purchase price as a grant to help with you.
Since FHA Loans require a minimum of 3.5% down, that means you'd only have to come up with as little as 1.5% for the down payment! You also can combine the down payment assistance with up to 6% of the seller's concessions (credits and closing costs). Even better, you'll never have to pay the grant back after you close on your home!
Here's how the numbers work:
Let's say you're purchasing a $300,000 home with an FHA Loan. In order to reach the 3.5% down payment requirement, you'd typically need to come up with $10,500 plus additional cash for closing costs. With this FHA DPA program, you'd only need to bring $4,500 (1.5%) personally to the table. The other $6,000 (2%) is covered by the grant. You also may be able to negotiate your seller to cover some of your closing costs.
How to qualify for FHA down payment assistance.
Like all DPA programs, you will need to meet some basic requirements in order to qualify:
A minimum credit score of 580 but we recommended a score of 620 for best rates.

Your debt-to-income (DTI) ratio must be less than 49% total and less than 43% for housing.

Total borrower income must be equal to or less than 140% of the area median income (AMI).

The grant can only be used for an FHA Loan.

Must be buying a home in IL, FL, MI, or TN.

You must be one of the following:
First-time homebuyer.

Current, retired, or non-paid volunteer. If you do not have volunteer experience, you may volunteer now in order to obtain this experience.

First responder - such as a police officer, firefighter, public safety officer, or paramedic/EMT.

Educator.

Medical personnel - such as a nurse, doctor, phlebotomist, health ambassador, hospital worker, or American Red Cross worker.

Civil servant whether federal, state, or a local municipality.

Military personnel (Have you checked your VA Eligibility?).
Most of the qualifications are straightforward, but the "total borrower income" or your "total yearly income" may be a little confusing. Area median income (AMI) is the midpoint of a region's income distribution - half of the families in a region earn more than the median and half earn less than the median. For FHA Loan down payment assistance, your total yearly income must be equal to or less than 140%. But this is completely dependent on where you are buying a home. Let's look at an example of Chicago's AMI: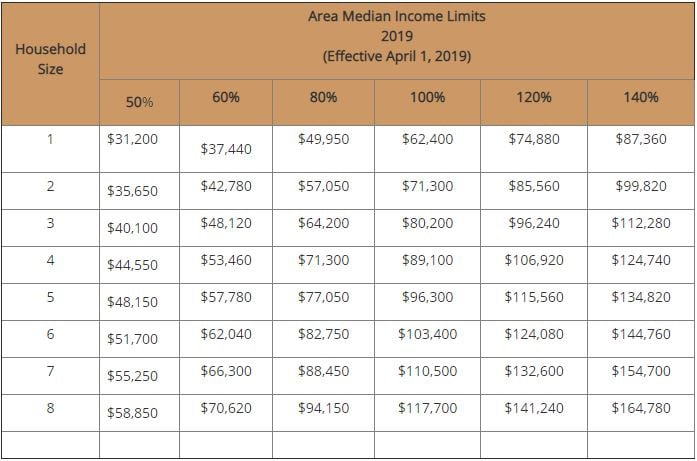 For the city of Chicago, you can see the AMI of 140% is $87,360 for one person and gets higher based on the size of your family.
In order to make sure you and your family qualify for the AMI restriction, reach out to us for the fastest answer. You can talk to me directly at 773-328-8298 or russell@newcastle.loans.
The downside? Higher rates. But you can refinance after you close.
In order to receive the down payment assistance, you will end up with a higher interest rate on your monthly mortgage payments. For most DPA programs, whether city or state-funded, the rate is always higher than current rates. Since you're personally investing less into the loan, banks and investors need a way to cover the money they provided you. Although we don't know what your exact rate will be since it depends on your specific situation, a higher rate is nothing to worry about.
Just because your rate is locked-in doesn't mean you can't change in down the road. After only six months of a higher monthly payment, you will be able to refinance into a lower one! That's a huge win, because you get to keep the equity the investor gave you for your home and end up with a lower rate. There aren't many situations where you can invest so little into your home and come out ahead.
How does the FHA down payment assistance program compare to other DPA programs?
Many states and cities will offer DPA programs to homebuyers - such as IHDA in Illinois and Chicago's Home Buyer Assistance Program. State and city grants work similarly. They offer money to help with your down payment and closing costs. In exchange, you'll need to meet their qualifications and accept a higher interest rate.
However, the qualifying standards for state and city grants can be difficult for most buyers to hit. Even worse, the money often runs out before you even have a chance to apply.
As we said before, one of the biggest disadvantages of DPA programs is taking on a higher interest rate. But with state and city grants, you can be stuck with paying that higher rate for a long time since you often are not allowed to refinance your mortgage for at least five years. With our FHA DPA program, there are no restrictions for refinancing. That means after six months, you can refinance to lower your monthly payment.

How to apply for a mortgage and FHA down payment assistance.

You need to apply for a mortgage pre-approval before the down payment assistance qualification can take place. The first step is taking 15 minutes to submit a mortgage application. After, one of our loan officers can help you qualify for the FHA down payment grant with one of our investors.
Don't let the down payment barrier to homeownership stop you from growing your wealth - talk to us and apply for a mortgage today.