Why embrace change from the old model of mortgage prequalification? We'll answer some of the most frequently asked questions about our Approved Buyer Cert.
1. What is an ABC?
2. Pre qualification ≠ pre approval
Pre qualification is informal

Pre approval checks credit, employment, and financials using real numbers

Pre approval is the gold standard as it's based on real data, not assumptions
3. What are the advantages of an Approved Buyer Cert (ABC)?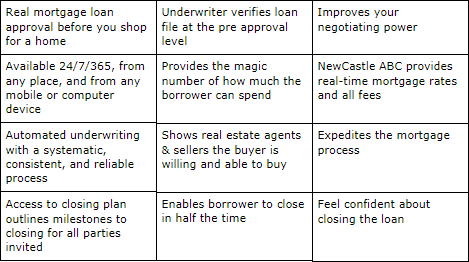 4. Time (how long does it take to get pre approved)?
Enter your information online in

15 minutes

from any device such as iPhone, tablet, pc, etc.

Not comfortable online? Talk with a human 855-610-1112
5. How do I get an Approved Buyer Cert?
Go to

newcastle.loans

, click 'Approved Buyer Cert', click 'Get Started'

Enter zip code, purchase price, $ down payment, your credit rating, search rates

Pick a loan and rate, see the monthly payment, including taxes and insurance and all fees, with incredible detail all in less than 60 seconds, click 'Apply Now'

Create Your Account to apply with NewCastle Home Loans

Follow the instructions online and or call us

855-610-1112

for assistance
We're gathering information in real-time on income, assets, and credit. Our systems are secure encrypted which is better than leaving photocopies of your tax returns, bank statements, and pay stubs in an office with a 12-person underwriting team. The traditional model has your personal documents travel from 1 desk to another down the line.
The NewCastle way consists of a 3-person team and the key decision maker is placed at the beginning of the process, not at the end. Our process is 100% digital and less people access your file. Besides, you have direct contact with the team as we aren't a huge call center that is based on commissions.
6. What's missing from the Approved Buyer Cert?
Signed purchase contract

Satisfactory property appraisal (if required)

Clear title

Final verification of no adverse changes to the borrower's financial situation
7. What's the catch
The Approved Buyer Cert avoids the pre qualification pitfalls of not being based on real data. Utilize the pre approval to gain a competitive edge.
Why rely on the old mortgage pre qualification model that uses assumptions? By using real data, the Approved Buyer Cert is an opportunity to embrace change and benefit from the 24/7/365 online system access, more negotiating power, expedited mortgage process, feeling of reliability, and confidence of the mortgage process etc.
Here's an example of what our Approved Buyer Cert looks like.
We promise you'll enjoy the journey so you can focus on the destination of your home.
Get approved for the loan before you shop for a home.
Tweet your mortgage questions. Get answers from our staff underwriters.

Subscribe and never miss out. We'll keep an eye on mortgage rates for you - for free. You'll get monthly tips, too.

Learn more about our our online application.