Home prices, property taxes, and mortgage rates are on the rise. It's getting more expensive to own your home nowadays. An adjustable rate mortgage makes the monthly payments a little easier to afford. That's why more homebuyers are using ARMs - about 10%, up from 5% in just two years.
ARMs are great because they start with a lower monthly payment than a fixed rate mortgage. But an ARM isn't for everyone. The amount you pay each month will eventually go up, maybe way up, and that's not so great. You don't want to get stuck with an ARM when rates are on the rise.
Dan and Jen, recent first time home buyers, are a good example of who should use an ARM. If your situation is like theirs, then you should take a good look at one too.
Shop and compare mortgages
The seller just accepted their offer to buy a condo. Dan and Jen feel a little overwhelmed. They have a lot to do in 30-days, like find a real estate attorney, get the property inspected, move out of their apartment, and move into the new place. Most importantly, they need a mortgage. No loan, no Chicago condo.
Dan starts with a mortgage broker. Brokers don't approve or deny home loans. Instead, a mortgage broker gathers the paperwork and arranges for a lender to review it and make the loan decision. The broker's lack of control makes Dan uncomfortable. He doesn't trust that the broker can get the mortgage ready to close within 30-days.
Next, Dan goes to the bank branch office where he has his checking account. He called twice for a loan officer beforehand, but he never got past the automated phone menu. After a brief meeting with the loan officer, Dan left the branch with the impression that the big bank can't deliver the know-how or the service that many first-time buyers want.
Meanwhile, Jen already checked with the big online lender. They make it look easy in the commercial. Jen expected to see at least the rate, payment, and closing costs so that she could shop and compare loan offers. But after 30-minutes of filling out forms on the website and giving out her private info, all she got was a credit inquiry, several calls, and a few emails from the lender's salesperson.
Get real rates and fees for your home loan
Liz is Dan's and Jen's real estate agent. Liz recommended newcastle.loans. Jen used her iPhone to run a rate quote through their online mortgage calculator. She entered the zip code, purchase price, down payment, and estimated credit score. In less than a minute, the mortgage calculator delivered precisely what Jen and Dan wanted - a live rate, a monthly payment, the down payment, and the closing costs.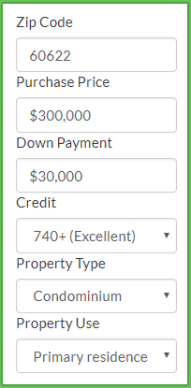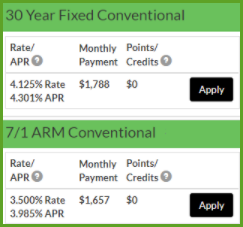 Other lenders keep you guessing. They post static rates and generic rate tables. Newcastle.loans supplies you with accurate and detailed information presented in real-time. It's a closing cost calculator, a monthly payment calculator, and an amortization calculator too. See for yourself.
Adjustable Rate Mortgage vs Fixed
In a few minutes, Dan and Jen narrowed down the options to the 30 year fixed and the 7 1 ARM (7 year ARM).
Jen likes the ARM because the payment is $131 less each month. They'll save $1,572 in the first year, and they can use that money for their wedding. But Dan's a little nervous. He wants someone to tell him exactly how it works - in plain English.
So Dan called me to ask "What happens to the 7 1 ARM after seven years?" I explained that the rate could go from 3.5% to 8.5%, and if that happens, the payments will shoot up by $1,180 to $2,837 per month. "That's scary," Jen said. (See what could happen - 7 1 ARM info-graphic).
Considering an ARM? Ask yourself 3 questions.
1. Will you own the property for more than 7 years?
"It's a starter home. There's a 0% chance we'll live in a 2-bedroom condo for next 30 years," Jenn said. We're getting married in 13 months, so an upgrade to a bigger space is only a few years away."
2. Can you put the saving to better use?
The payment savings is the only reason to risk using an adjustable rate mortgage. So it's no surprise that they quickly found a way to spend it. They'll either furnish the condo, pay down student loans, or invest it.
3. Do you think you'll be making enough money after 7 years to handle a big monthly payment increase?
"Both of us have good jobs," Dan said. "I'll make a lot more money in a few years, and the same goes for Jen." Their careers are off to good starts. So in the unlikely event that they still own the condo, and if rates go way up, they'll even afford the higher payments.
I showed Dan and Jen a break-even so they could see how much they'll save over seven years, and how long it will take to lose what they saved. If rates skyrocket, they'll break-even in about 7.8 years. Take a look.
$1,572 savings after 1-year
$3,144 savings after 2-years
$4,716 savings after 3-years
$6,288 savings after 4-years
$7,860 savings after 5-years
$9,432 savings after 6-years
$11,004 savings after 7-years
$0 after 7.8 years

-$3,156 loss after 8 years
Dan and Jen were surprised at how quickly they could lose all the benefits of the ARM. I reminded them that the break-even is the worst case scenario. It's possible that rates and their monthly payments could go down after seven years. Either way, the smart thing to do is hope for the best and prepare for the worst.
Dan and Jen decided to go with the ARM. They'll get all the benefits of home ownership at the lowest cost. In just a few years they'll grow out of the condo and sell it. By selling, they'll cancel out the risk of a much higher monthly payment seven years down the road.
Who should get an adjustable rate mortgage?
Weigh the benefits of an ARM against the risk. Yes, you'll save a lot of money with an ARM, and that can come in handy, especially if you're a first time home buyer.
Be smart by preparing for the worst-case scenario. First, find out when the ARM will adjust, and how high the monthly payment could go. Then decide if you can handle the future payment. If you can't and if there's a good chance you'll own the house after the rate changes, then forget about the ARM and go with a fixed rate mortgage.